Attracting new clients can cost 5 times as much as retaining your existing ones, yet most businesses under-invest in retention. With Amplify's workflow "Member expiring", we want to make it effortless for you to reach out to clients whose memberships are about to expire. This is a great opportunity to remind them of their journey with you, the benefits of being part of your community, and incentivize them to stay (possibly with a well-timed discount or free service).
To access the workflow, you can go to Connect > Messages tab. There you'll see "Member expiring" on the Messages list, alongside an Amplify tag to easily identify it. From here you can activate the flow and it will automatically use our pre-defined template to send messages, which contains a sequence of emails and SMS sent on Days 30, 14, 7, 3, and 1 before the member expires. Note that you need SMS credits for the SMSs to be active and sent.
To customise the messages in this workflow, you must first click on it. From there, you will see:
Flow Start rule: the workflow targets any member with an active unlimited membership that is close to expiration and doesn't have any consecutive or future membership scheduled

Flow Stop rule: the workflow stops if the member purchases a new membership, expires, or cancels their membership

The sequence of messages set up

The "Add message" button, allowing you to add new emails, SMS, and push notifications to the sequence of messages
You can then click on each individual message and edit its content accordingly.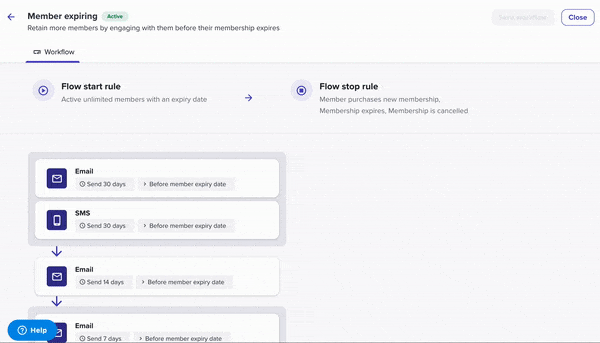 Please Note
Restricted, Roaming, and Group memberships are currently not targeted
If you have any queries on the above, please contact our Support team.