The Glofox Website Integration is a powerful way to showcase your Schedule & Memberships and process payments directly through your website. You can engage with your clients and drive revenue through your website and social media like never before.
Here is how to get set up on the 'Web Integration' section of your Glofox settings:
Customize your Web Integration's look
You can customize your Website Integration to best fit your brand's color scheme, so your client's will have their complete customer journey with your Studio's branding.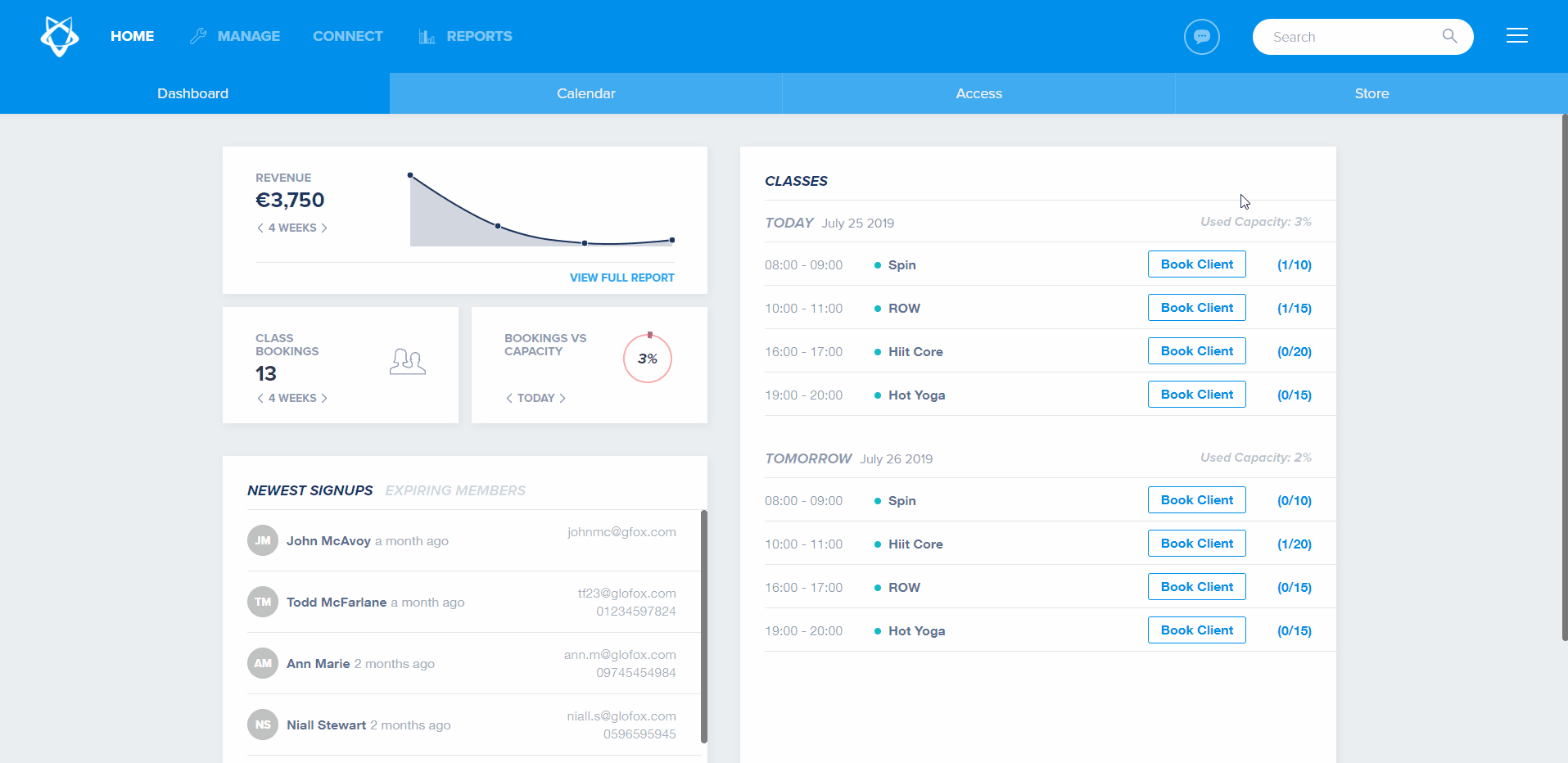 In addition to choosing the color scheme, you can also choose if your Class Schedule will show as a Week View, Day View, or List View. Regardless which option you choose, your Class Schedule will respond to what looks best on your client's screen - so if you have the schedule set the Week View, but the client views your website on their mobile phone, the Class Schedule will show in the List View!
Ensure to click Update when you are happy!
| | |
| --- | --- |
| | Week View |
| | Day View |
| | List View |
Customize the Features to display
With the Website Integration - you can decide what your client sees! Simply switch on or off the features which you want and click Update!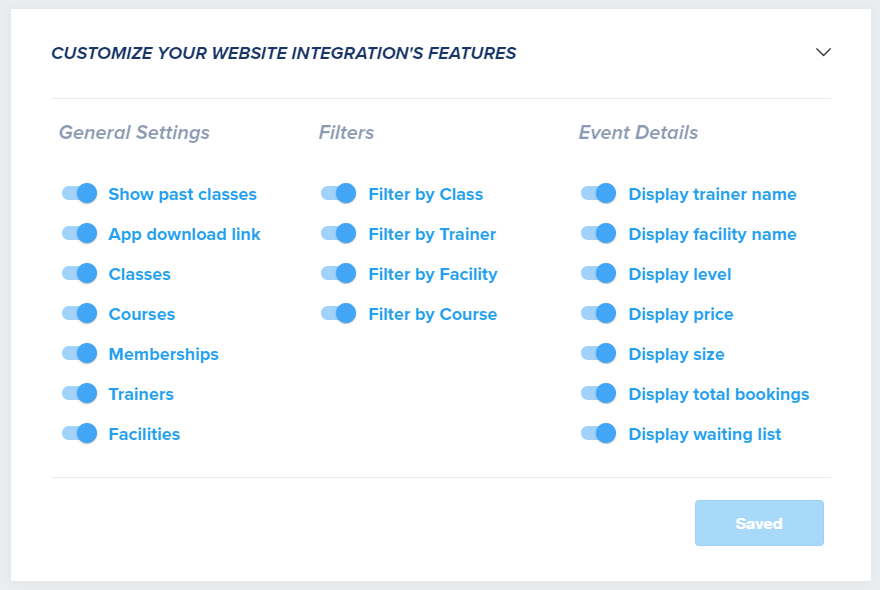 Generate the link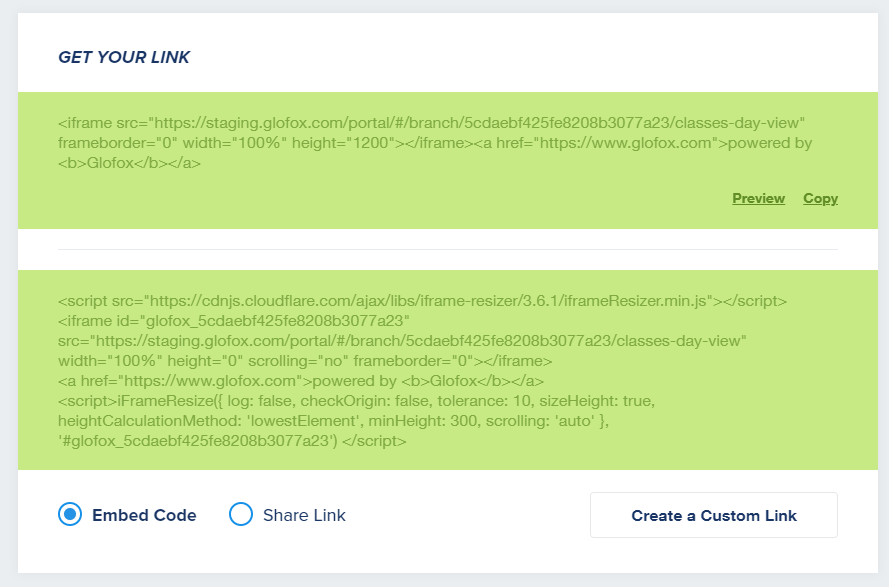 If you click the button to 'Create a Custom Link', you can choose to show different information from Glofox in different areas of your website. You can:
Show classes on one part of your website and memberships on another
Show Yoga classes in one tab and Spinning classes in another
Promote a certain membership on your homepage 
All you need to do is specify the information you want to show, Click 'Generate Custom Link' and you now have a link which will show your clients only the information you want to show in that part of your website.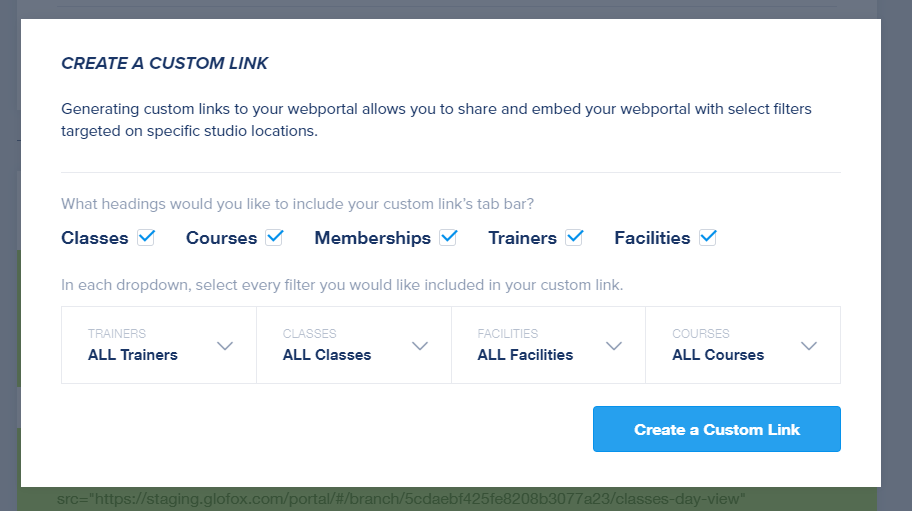 Insert the Web Integration on your website
If you have an old web integration, ensure to remove that, and insert the new link in the best areas. Ensure to make use of the flexibility of this integration by putting the right information in the best part of your website - so your clients can find the information they want, where they expect to find it.  

or

The next step is to start promoting specific Events (Classes, Courses, Trainer Appointments) and Memberships on your social media and Newsletter!
Having trouble? Reach out to support@glofox.com and we can help.