What is Amplify?
Amplify is our customer engagement add-on, enabling you to automate personalized multi-channel messages for every stage of your members' journeys through one centralized platform. 
It's built to effortlessly boost how to convert, retain, and engage clients, driving more revenue for fitness businesses of any size, anywhere.
How Amplify works
Amplify's core functionalities are offered through automated messaging workflows, found in the Connect > Messages section of the dashboard. These workflows are listed alongside standard automated messages and highlighted by a unique "amplify" tag.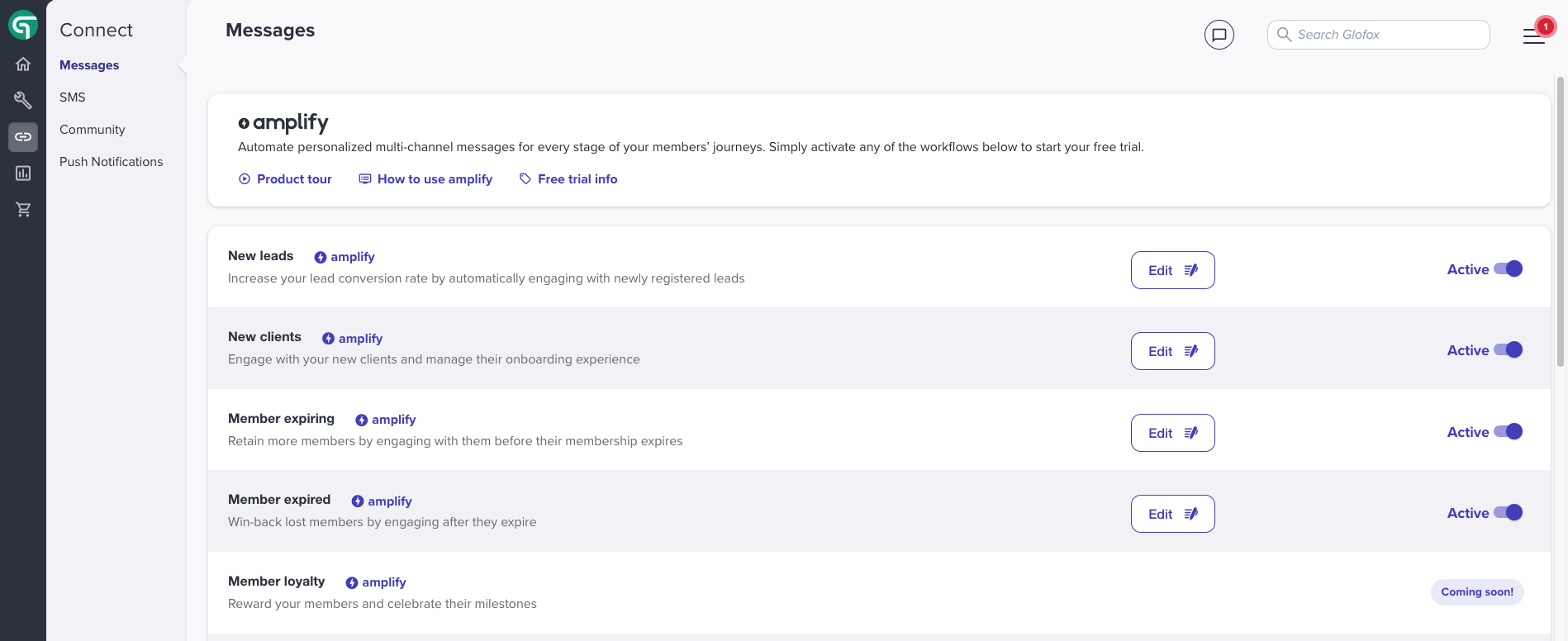 In this list, you can individually set workflows to:
Active -

the sequence of messages in the workflow is automatically sent to anyone that matches its flow start/stop rules

Inactive -

no messages are sent
Once opened, each workflow follows a structure:
Title and description

Workflow

and

Insights

tabs
In the Workflow tab, you can see:
Flow start rule -

this determines which of your members are targeted by a specific workflow (e.g. the "New leads" workflow targets any lead that is registered after the workflow's activation)

Flow stop rule -

this determines when the workflow's sequence of messages stops targeting someone (e.g. in the "New Leads" workflow, if someone purchases a service, they'll no longer receive future workflow messages).

The sequence of messages in the workflow

The "Add message" button, allowing you to add new emails, SMS, and push notifications to the sequence of messages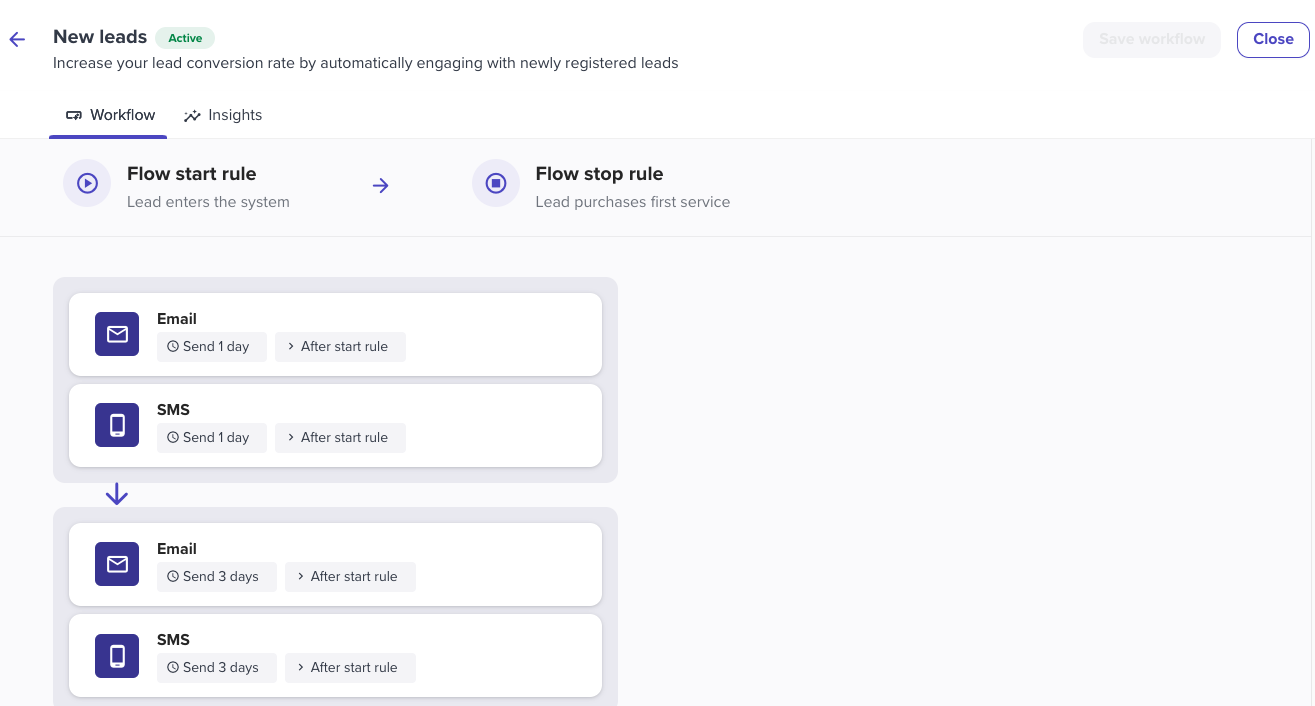 Example - "New leads" Workflow tab
Each workflow has a template already in place, which follows the industry's best practices for great results. However, we know that tailoring how you engage is essential, so you can easily:
Edit the content of each message

Enable or Disable each of the messages

Add new messages to the cadence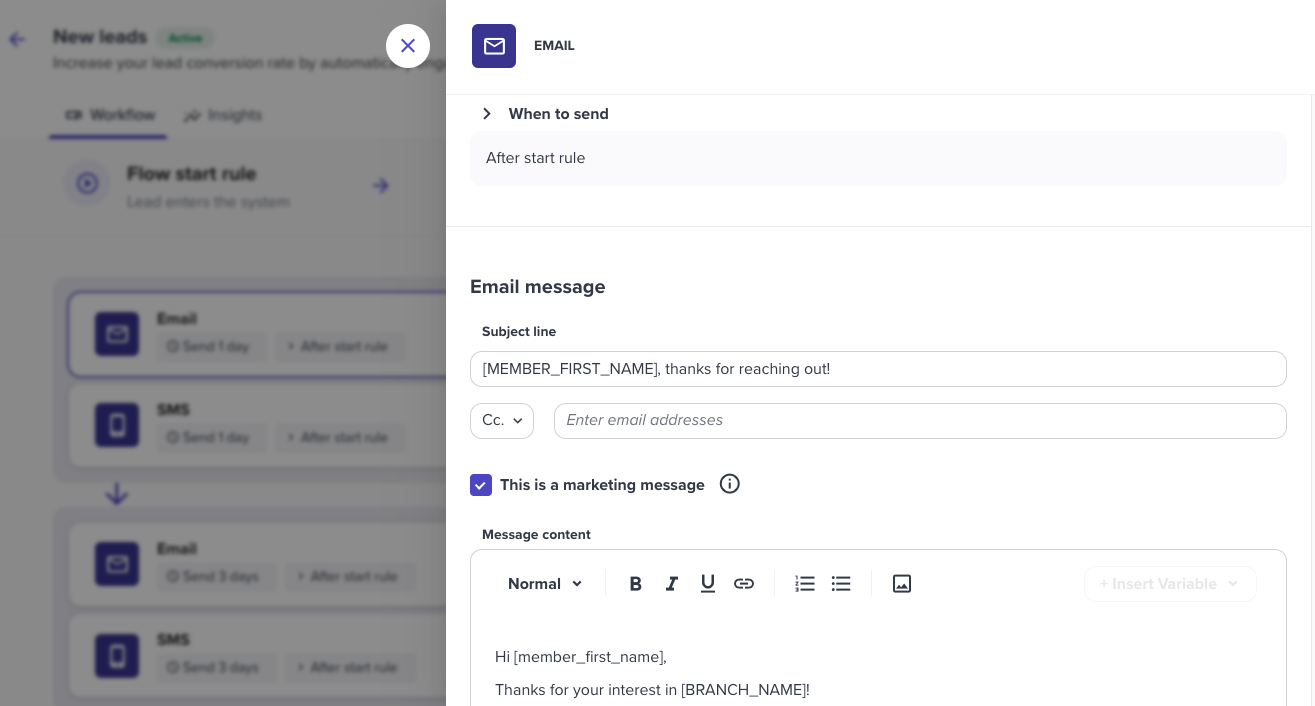 Example - Editing the default Day 1 Email in "New leads" 
In the Insights tab, you can see:
A custom time filter, to specify which period you want to assess data from.

A workflow-specific report, with the most relevant data points available.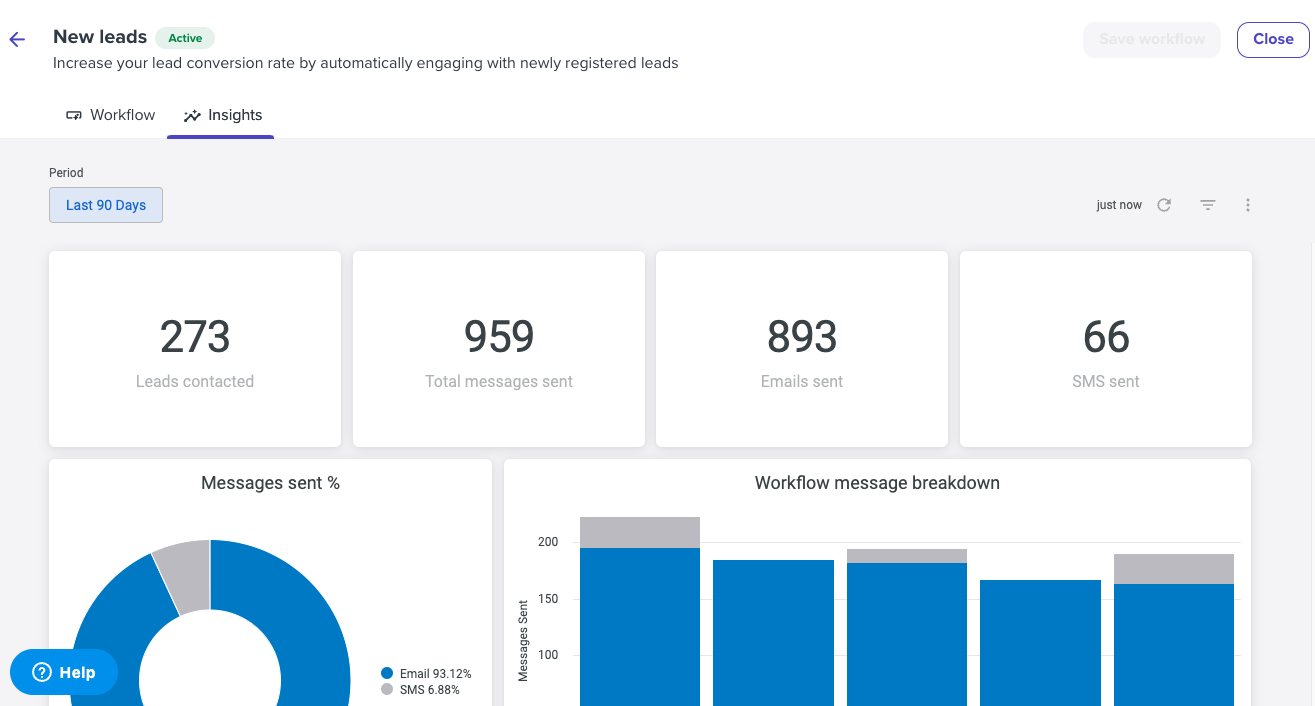 Example - "New leads" Insights tab
Beyond the general structure, you can learn more about each Amplify workflow in the following articles:
How to access Amplify
Amplify is a premium add-on, which you can purchase on top of your billed subscription. If you want to learn more about its pricing or how to try it for free for 30 days, check out our dedicated article here.
If you have any further questions on Amplify, please contact our Support team.