Recurring Appointment Bookings are now available for customers on the new version of Appointments. This new feature gives staff the ability to create multiple appointments simultaneously, on behalf of their clients.
What are the benefits?
Improve efficiencies for Admins/Trainers setting up appointments on behalf of their clients

Ensure loyal clients secure their weekly spot without the hassle of having to book ongoing individual sessions
What does the first version include?
The first version of Recurring Appointment Bookings will be available on the Dashboard only

Staff can create Appointment bookings on behalf of the client for up to 3 months in the future

The bookings will be created as unpaid bookings

Trainers/Admins can take payment for the booking any time after the booking is created, any type of payment can be used i.e. credits (if available on the client's account), cash, card etc.

The bookings can be made regardless of the memberships type (PAYG, Restricted, Unlimited, Credit Packs all supported)
What are the limitations?
It's not not possible to take automatic payments for the appointment bookings/upfront payments

Bookings need to be deleted/canceled individually, bulk cancellation/deletion is being developed currently
Steps to set up a recurring appointment booking:
Go to the calendar

Select a slot on the calendar

Set up an appointment and select the 'recur appointment' checkbox

Select one or multiple days

Note: all appointments will be created at the same time. If you would like to set up appointments at different times, please create a separate recurring appointment

Select the date you would like the appointment to be scheduled until

Note:

there is a 3 month limit

Hit 'Create appointment'

The appointments will be created and will be visible on the calendar. If there is a conflict, the appointment will not be created, which will be shown in the confirmation screen. This can be because the user has another booking at this time, or the trainer has another appointment at this time.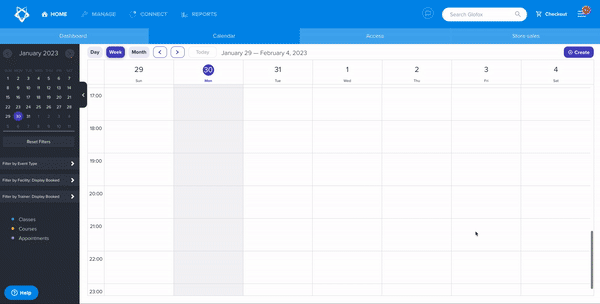 Steps to take payment for a recurring appointment booking:
Once the appointment has been created, access the appointment on the calendar

Hit the 'Charge' button

Select the payment type (note: it will automatically pull in a credit if available)

Complete the transaction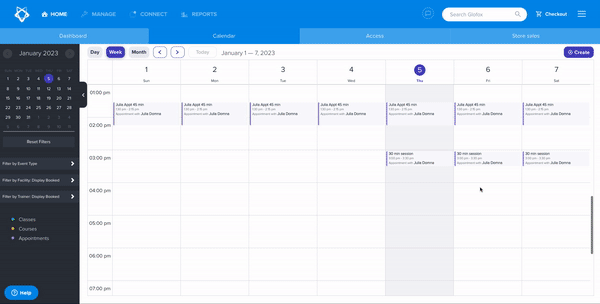 Supporting articles
For more information on the new version of Appointments, see this article
Glofox Appointment Improvements
If you have any questions or would like access to this feature, please reach out to support@glofox.com