The initial Pay Rates release introduces a new Pay Rates section under 'Manage' on the Dashboard. This new section will be dedicated to managing your studio's pay rates and running payroll reports. Eventually, it will cater to a variety of pay rates and bonus structures.
Initially however, it will focus on capturing class and appointment base rates, with the ability to add pay rates for different classes and appointment types.
Superadmins and Admins will be able to add pay rates under the 'Manage' section.
This article will take you through:
How to add pay rates to classes
Navigate to the Manage tab, and click 'Pay rates'.
On the Pay rates page, click '+ Pay rate'.

Select a class or an appointment
Select the specific class or appointment from the dropdown menu
Add a base rate for the class or the appointment

On the overview page, you will be able to see all of the rates you set for different classes and appointments.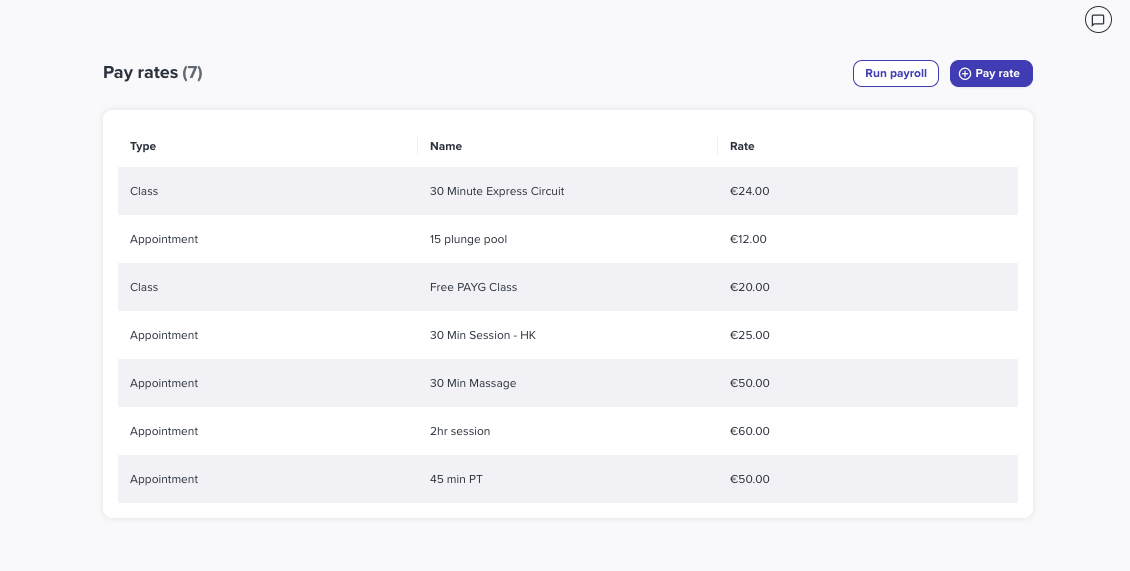 Once you click on the 'Run Payroll' button and enter the specific date range, a CSV file can be downloaded with the event, pay rates, bookings and attendees.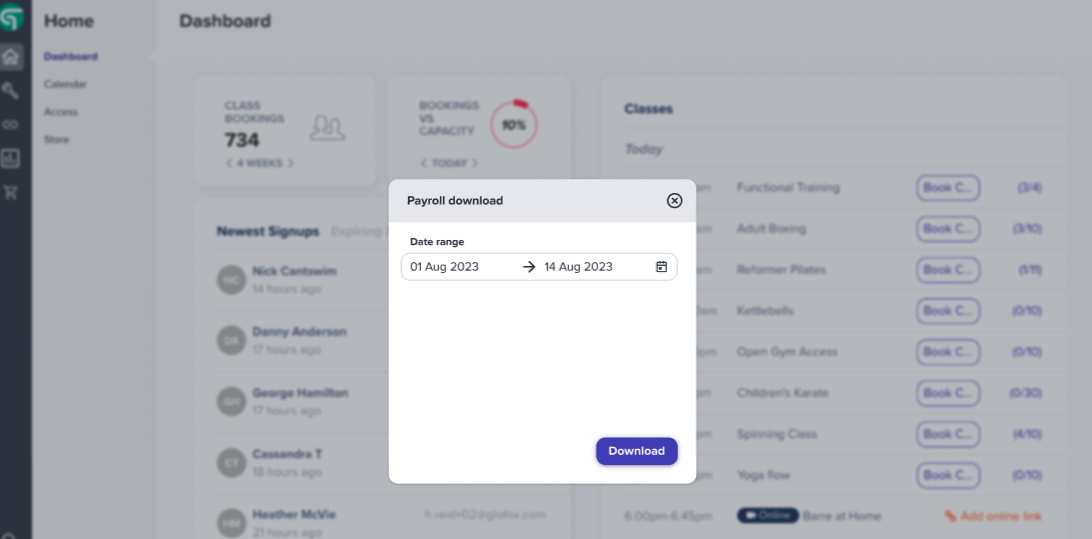 How to edit a pay rate
To edit a class or appointment pay rate, follow the below steps. Please note, once the rate is changed, the new rate will be used from that day forward. The Payroll report will still use the previous rate for events in the past.
1. Click on any of the existing rates
2. Change the rate and hit 'Save'
3. View the updated rate on the overview, all reports from the present day will use the new rate
Please note
You will still need to calculate the totals per trainer manually using the CSV file.
There is a one-month period restriction on the Payroll download currently; you will not be able to download data for more than 1 month at a time.
You need to be on the new version of Appointments to set appointment base rates
What's next?
Different rates for trainers
Bonus structure