This article will take you through; 
How to delete a Staff member
Did a member of staff recently move on? If so, deleting a staff user is simple with Glofox. To delete a member of staff that has left your business or who no longer needs access to the Glofox dashboard, follow these steps: 
Go to and click the 'Manage' icon
Click on the 'Trainers' tab
Click 'Edit' on the staff member you want to delete
Scroll down to the 'Delete' button
Click 'Yes' on the pop up that asks you are you sure you want to delete this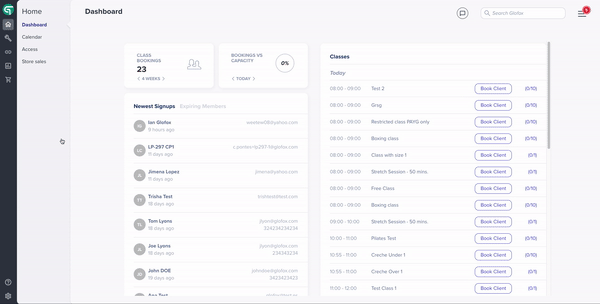 Please note;
The staff member will move to the deleted list of staff users, click here for the article explaining how to restore a deleted user if needs be
When deleting a staff member, they should also be removed from classes. Do this by going to the  'Manage' tab and then 'Classes'. If their profile is deleted without removing them from the classes, they will continue to show up under the classes in web integration and in the app

If a trainer is deleted without assigning another trainer to their classes, it could cause issues with class bookings
How to replace a Trainer
If you want to change a trainer from a class schedule, it is essential that this is done correctly; otherwise, the trainer will still appear on the web-portal even if they have not been added as a trainer in your class management. To do this, follow these steps; 
From the dashboard, go to the 'Manage' icon

Click the 'Classes' tab

Click the class you wish to change a trainer in

Scroll down the the 'Trainers' drop down and click it

Click 'Uncheck All'

Reapply correct trainers and click 'Save"

Refresh your browser and the new trainer(s) should appear and the old trainer(s) will no longer be attached to this class
Next steps and additional support
To restore deleted staff members click here;
For additional support, reach out to support@glofox.com, and we will be happy to assist you.