This article will take you through;
What is Strong Customer Authentication (SCA)?
Strong Customer Authentication (SCA), a new EU regulation that came into effect on September 14, 2019. This changes how your customers authenticate online payments. With SCA, card payments will have a different user experience. In Glofox this means your customers will mainly see 3D Secure when adding a card. From time to time your customers may be asked to authenticate a payment.
How to add a card?
Your clients will add a card as usual. After they enter their card details we will check with your client's bank to see if they need to see the 3D Secure page. The majority of banks in Europe will say they need to fill out 3D Secure, once this is done the card is then saved onto your client's account.
If your client has a card issued outside of the EU they are unlikely to see the 3D Secure page. In this case, adding a card will follow the same process as before.
Making the first payment with a card
In general, when your clients add a card they make a payment soon after. This first payment will not need authentication. However, some future payments may need authentication.
Making a payment with a saved card
Saved cards can be used in two ways;
A subscription payment

Payment for one of your services or products. e.g.; A Client books a class and pays with a saved card
Making these charges will now have one significant new step. When a charge is made we check with the bank to see if this payment needs authentication. If the bank says no, the payment goes through.
A change in the process happens only when the bank says yes. If this happens your client will receive an email to authenticate the payment. At this point, the payment will show in your Glofox account as 'Needing Authentication'.
The email contains a link to the approval page. On the approval page, they will see a summary of the payment; amount, date, service. Once the client approves the payment the money will come out of their account. The payment will then be marked as 'Paid'.
This example goes through how a member on a subscription membership could be impacted;

How your clients authenticate payments
Your clients will receive an email which will look something like this;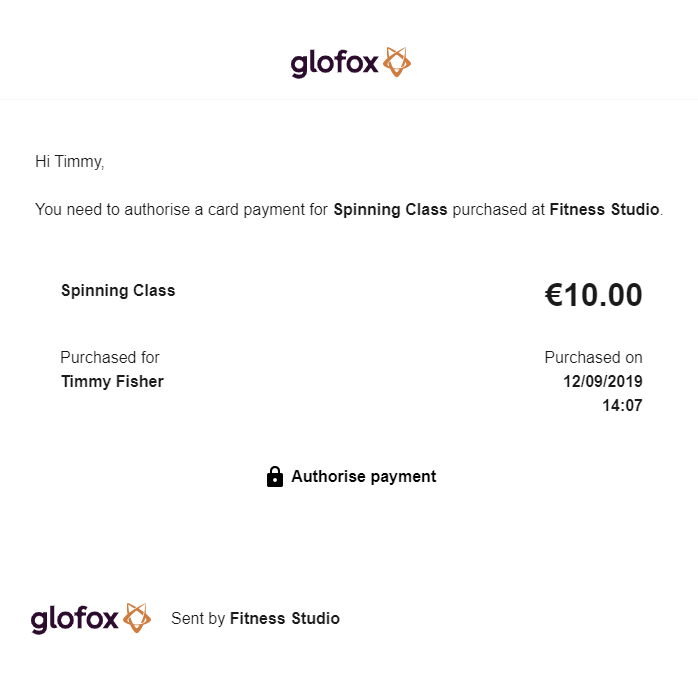 Your logo and business name will show. Your client must click Authorise payment. They will then be taken to a page to complete the authorization. In most cases, these pages will show their banks 3D Secure page in a pop-up but this depends on the bank that issued their card.
How to see payments waiting to be authorized
You can see payments needing authorization in two places:
The transaction list in Reports

Your client's profile
Transaction list

Along with your paid and failed payments, you will see a new status, 'Pending Authorisation'. This means your client has been sent an email to authorize the payment but they have not actioned it yet.
Your client needs to go to their email and follow the link to complete authorization
Clients Profile;

What happens if your client cannot find the email
If your client cannot find the email to authenticate you can resend it to them;

There is no limit to the number of times you can resend the email. If your client clicks 'Authorize' in the same email two times they will see a message letting them know they have already authorized this payment.
Next steps and additional support
For more information on payment processing, follow the link below;
For additional support reach out to [email protected] and we will be happy to assist you.