This article will take you through;
Glofox Payments with Stripe
Glofox integrates best with Stripe, a trusted, secure, and headache-free payment processing software. Setting up with Stripe will allow you to make payments via your member app and website integration.
Stripe Beta Countries
Stripe currently offer payment processing for all major credit & debit cards in 35 countries globally. However, Brazil is still in Beta.
Glofox customers in the 32 countries set up for Stripe, can follow the below step by step on connecting Glofox to Stripe.
Connecting Glofox to Stripe
To set up Stripe, follow these steps
On your Dashboard, open the sidebar menu by clicking the three horizontal lines icon in the top right corner.

In the sidebar menu, select 'Settings.'

Click on the 'PAYMENTS_SETTINGS' tab.

Next to 'Card', click 'Configure'.

You will then be prompted to submit your details such as name, account number, routing number, etc. as per the video below. Once finished click 'Save'.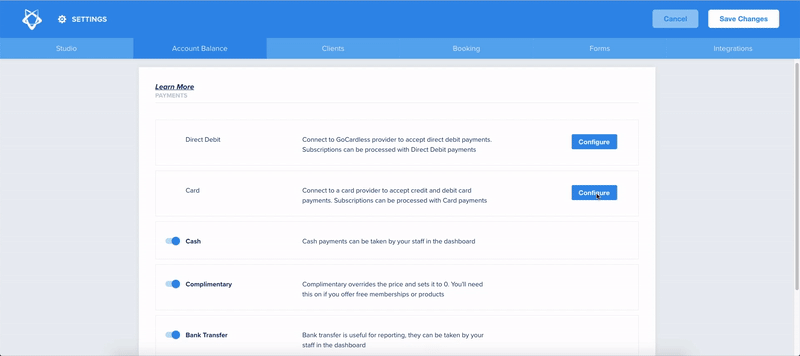 Please note;
The routing number can also be known as a sort code/swift code.

It is essential to upload ID, which matches the account holder's name exactly, as if not done, so this can affect receiving payouts from Stripe to your bank account.

The ID must be uploaded in either PNG or JPEG format and be under 5mb in size.
Already using Stripe and moving to Glofox
If you already have a Stripe account from a previous business, we still encourage you to move over to Glofox Payments to avail of all the latest features that Glofox has to offer. Glofox Payments clients have all the latest features including:
Ability to do a partial refund

Forgive, or retry failed payments

Improved transaction & previous membership history
Payment Security
Your payment details are stored on Stripe, a trusted, secure payment processing company that is also used by Apple Pay. Glofox is Level 1 PCI compliant when processing payment data.
The rest of your data is stored in our servers which have several levels of security. Our technical architecture and procedures ensure all data is protected to the highest standard.
Next steps and additional support
To find out more about Stripe and failed payments, read the below article;
For additional support reach out to support@glofox.com and we will be happy to assist you.