This article will take you through;
What is the Payouts Report?
Included in the report list is the Payouts Report, this report allows you to view all payouts you have received in a given time frame. The report will allow you to dig in and see a breakdown as to what transactions are in each payout. This report will also allow you to see the scheduled payouts which are on the way to your bank account via your payment provider as well
How to find & use the Payouts report
To locate the Payouts section , follow these steps;
From the dashboard go to the 'Reports' tab

On the left hand side menu, click the 'Payouts' report
This report will show you all the information about the Payouts you have received (in the selected timeframe) or that are scheduled.
The top of the report shows an overview of
Scheduled Payouts
Completed Payouts
Total Payouts
It will all show you a breakdown of the payouts you have received and are due to to you in the last and next. 7 days

As with the rest of this report, clicking into these figures allow you to dive in to the breakdown of this number and download the information as a csv file.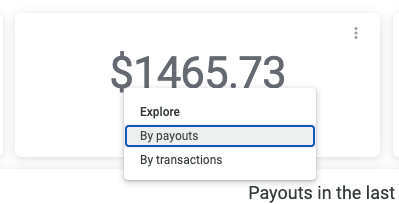 Underneath this section you will see a graph and a bar chart showing the progression over time of your payouts for the chosen time period and over the last 6 months.
At the bottom of the report, it shows the estimated payouts & fees broken down by payment method during the select time period.

Please note
These payouts are estimated as it cannot link data from disputes or third party integrations
You can click into any of these figures to see the breakdown and download the information
How far you can see scheduled payments in advance depends on your region, please contact support@glofox.com for any queries on this.
How to see a breakdown of transactions in a payout?
You can drill in to see a breakdown of which transactions are in which payouts by click on the total payouts figure at the top left . By clicking into this figure, you can select to drill down by transaction. This will give you all the transaction in the timeframe you have selected, and show you which payout they are associated with. You can download this report as shown in the section below.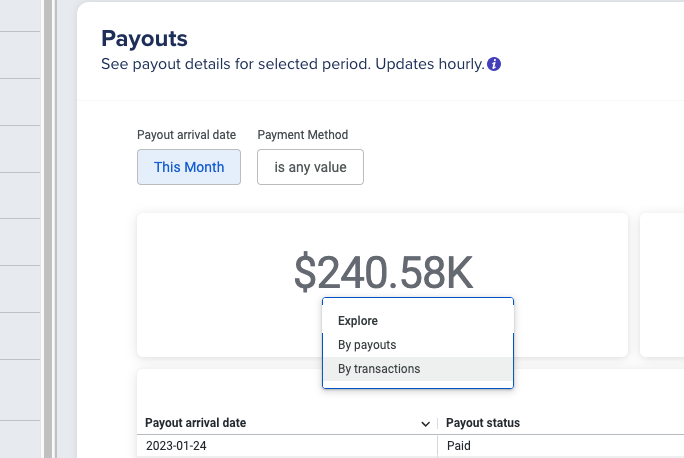 How to download Payout information
You can download the information in another of the section on the report.
To do this
Click into the section you wish to see the information on
Click "Drilldown" to see more in depth information on the numbers
In the new page, click the "Download" button in the top right.
Select the format you wish to download the information in and click download"

For additional support reach out to support@glofox.com and we will be happy to assist you.