This article will take you through;
What is a Pause on a membership?
With Glofox, you can easily 'Pause' a client's membership. You may want to 'Pause' a membership if your client has informed you that they are going on holiday, and you agree to extend the end date of their membership for them. Or maybe your client has an injury and needs some time away from working out.
Please note;
Currently, the only membership types that can be paused are recurring memberships. This includes both a regular recurring membership and service credit packs that have been set to recur.
How to Pause a membership
To set up a pause, follow these steps;
Locate your member's profile from the 'Clients' list or use 'Global Search' to search for the individual member and open their profile.

Click on the 'Membership' tab

Click 'Actions' on the top right corner of the membership and a dropdown menu will appear

Select 'Pause'

Select a 'Pause Duration'  

Click 'Pause Membership' and the membership will now be paused

You will know the membership has been successfully paused when you see the 'Paused' icon beside their membership. You can click the drop-down arrow beside their membership to confirm this. 
How to schedule a Pause 
You now have the ability to schedule a 'Pause' on a membership by selecting a pause to start at a future start date.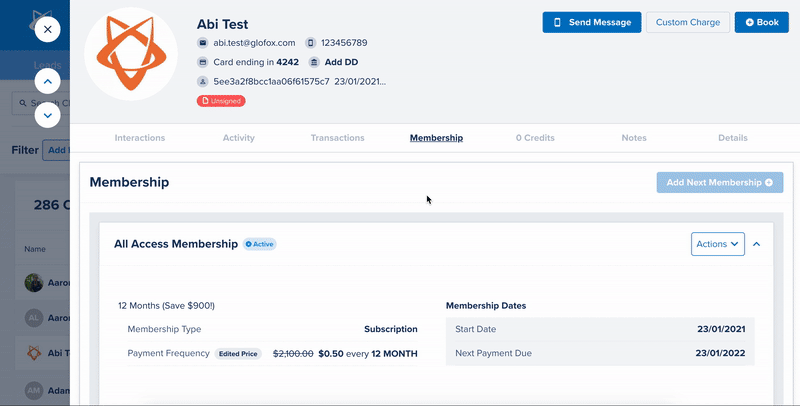 How to unpause a Paused Membership
There may be times when you need to edit the pause date. For example, your client might return earlier than expected from a trip, this is often known as 'unpause'. You can do this by editing the 'Start Date' of the 'Membership Dates' and set it to the date that you want the membership to reactivate. Once you select the new 'Start Date' and click the green tick '✓', the membership will reactivate on that chosen date.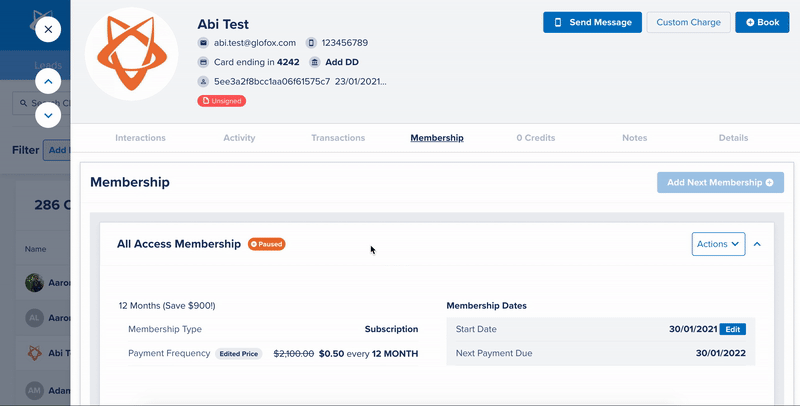 Please note;
By editing the 'Pause' re-activation date, this will not change the next payment date. If you are trying to edit the next payment date of a membership, the best method is to cancel the current active membership and subscription. Then re-add the membership, with a future start date of when you want the payment date to be.
To learn about pausing a membership from Glofox Pro, read the below article; 
What happens to the client's next payment?
When pausing, the next payment date will be extended by the number of days the membership is paused for, eg. If I had 7 days until my next payment and then went away for 2 days, my next payment date would move out the two further days.
In the infographic sample below;
The client starts their membership on January 1st and has 30 days until their next payment is taken (This means the client is on a monthly Recurring Membership)

T

he client decided to go on holiday on January 10th, so they paused their membership for 10 days (Reactivating on January 20th) 

The Pause has moved their next payment date by out 10 days (

Their original next payment date was February 1st, but it will now happen on February 10th) 

Their future next payment dates will now continue to occur on the 10th of each month, instead of the 1st 
Next steps and additional support
To find out more about 'Memberships' read the articles below; 
For additional support, reach out to support@glofox.com, and we will be happy to assist you.