This article will take you through;
What is the Meta pixel
The Meta pixel (previously known as Facebook pixel) is an analytics tool that allows you to measure the effectiveness of your advertising by understanding the actions that people take on your website. The Glofox integration with pixel will allow you to track visits and conversions on your website (timetable, membership page, etc.)
By tracking information like who visits classes, who has viewed the membership page, who completed the registration, and so on, you will be able to build target audiences on Facebook to assist you with your advertising and marketing campaigns.
The Meta Pixel integration is not available on all Glofox packages. To find out more or to upgrade, get in touch with your Glofox Onboarding Manager at customersuccess@glofox.com
How does Meta pixel work
Once set up, the pixel will fire when someone takes an action on your website. Examples of actions include; adding an item to their shopping basket or making a purchase. The pixel receives these actions, or events, which you can view on your Meta pixel page in 'Events Manager'. From there, you'll be able to see the actions that your customers take. You'll also have options to reach those customers again in future Facebook ads.
How to Integrate Meta pixel with Glofox
Step 1: Get your Meta pixel ID from your Facebook Business Manager
Log in to your 'Facebook Business Manager' account

Go to the '

Pixel' tab

in the 'Events Manager'.

Click 'Set up Pixel'

Click 'Use an Integration or Tag Manager'

You will then receive a 15 digit Facebook pixel ID, copy this and proceed to 'Step 2' below;
Step 2: Integrate your Meta Pixel ID with your Website Integration
From your Glofox dashboard, click on the ☰ icon, located on the top right-hand side

Click 'Website Integration'

Scroll to the bottom of the Page, where you will see a section for 'Facebook pixel'

Enter your 'Facebook pixel ID'

Click, 'Save'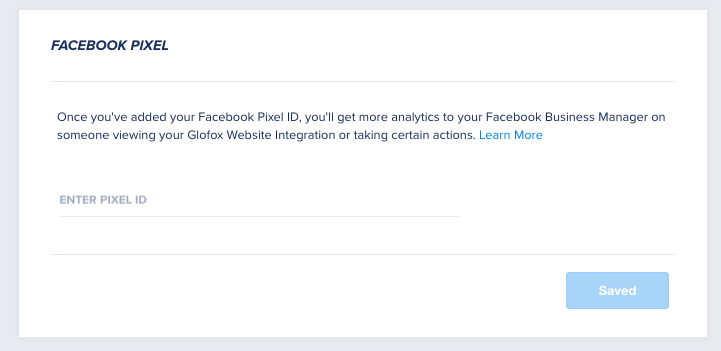 Pixel event types
Below are the event types that you can see coming through to your 'Events Manager' on Facebook, once the pixel ID is integrated.
| | | | | |
| --- | --- | --- | --- | --- |
| Event the client takes | | Pixel event name | | Content name |
| Views the Registration page | | ViewContent | | glofox_wp_viewed_registration |
| Registers an account with your Studio | | CompleteRegistration | | glofox_wp_completed_registration |
| Adds card details | | AddPaymentInfo | | - |
| Views the Class Schedule | | ViewContent | | glofox_wp_schedule |
| Views the Trainer Appointment Schedule | | ViewContent | | glofox_wp_trainer_schedule |
| Views the Facility Appointment Schedule | | ViewContent | | glofox_wp_facility_schedule |
| Views the Course Schedule | | ViewContent | | glofox_wp_course_schedule |
| View Membership Page | | ViewContent | | glofox_wp_memberships_schedule |
| Books a class, appointment or course | | Schedule | | - |
Once you see these events flowing into your Events Manager on Facebook, you can then set up retargeting campaigns based on the events above.
Next steps and additional support
For more information on our Glofox integrations, click here.
For additional support, reach out to support@glofox.com, and we will be happy to assist you.