This article will take you through;
What is GymLeads
GymLeads is a sales and marketing software tool for fitness gyms/studios. GymLeads will help you;
Set goals
Track progress at a club and individual level
Easily manage leads through a sales funnel
Prompt salespeople to schedule and perform follow up calls
Automate appointment reminders and confirmations with a personal touch
Detailed reporting on text message campaigns, sales performance and more
Integrating Glofox with GymLeads
To integrate Glofox with GymLeads you will first need to set up a GymLeads account. You can find more information on that here;
To Integrate Glofox with GymLeads, follow these steps;
Email Glofox at integrators@glofox.com requesting to integrate with GymLeads. Glofox will then send you, your 'Branch ID' and 'Namespace'
Once you have those, follow the video below to complete integration on the GymLeads side;
Settings > Third-Party Integrations > Glofox > Enter your details
Syncing leads from GymLeads to Glofox
To make sure your leads are automatically syncing, you can review the below toggle. Green means synced, Red and Orange mean they are not synced. You can hover over this toggle to read what you need to add to the profile to help it sync.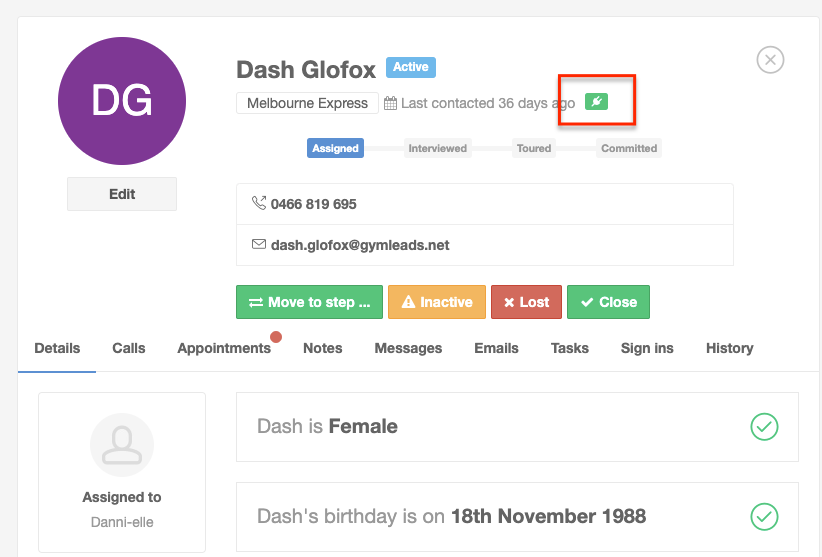 When creating a Lead make sure to include this information to ensure it populates correctly;
First and Last Name
Mobile Number
Email
Date of Birth
Gender
How the 2-way integration works
When a lead is created in Glofox with a status of "LEAD" or "TRIAL", this information will automatically push onto GymLeads software. The same applies in reverse, if a lead is created in GymLeads it will automatically push onto the Glofox dashboard. Take a look at the video below to view the 2-way integration in action.
Next steps and additional support
To find out more about our available integrations, read the below articles;
For additional support, reach out to integrators@glofox.com and we will be happy to assist you.