This article will take you through;
What is a Lead?
In Glofox a 'Lead' is a potential client that has expressed interest in attending your gym/studio. They will have expressed interest in one of the following ways;
They will input their details to the 'Lead Capture Form' from a link you shared or from searching and finding your website themselves
They will drop in or ring you enquiring about your gym/studio and you will input their details manually
How to filters Leads
Glofox 'Lead' filters let you drill down to specific segments of leads and take action to boost sales and retention.
You can build filters on top of each other and apply multiple filters at the same time to segment your leads even further and deliver a specific targeted message to a particular group on leads.
You can filter your leads by:
Also, take a look at our recommendations for;
Filtering Leads by number of Bookings
Grouping 'Leads' by how many bookings they've made is a great way to get a targeted list of those who've engaged the most, or the least. Identifying those who made multiple bookings and those who engaged the most during their trial would be the best people to speak to about signing up for a membership. Conversely, filter your leads list to identify those who have made little to no bookings and reach out to them to get them re-engaged in their trail and your studio.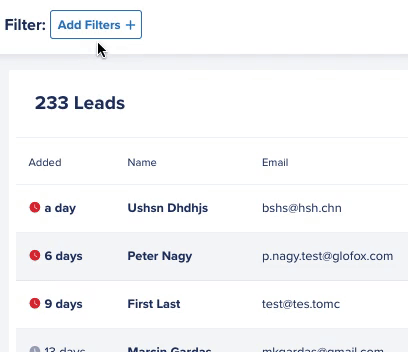 Filtering Leads by number of Check-ins
Filter your leads by the number of attendances to see which of your leads have been highly engaged and attended regularly and identify those who haven't recently attended classes and are at risk of churning.

Filtering Leads by Last Contacted
Decide which leads to contact by filtering to see who you haven't communicated with recently. Keep your leads engaged with studio news, offers, and updates so that when the time is right to choose a studio, yours is top of mind.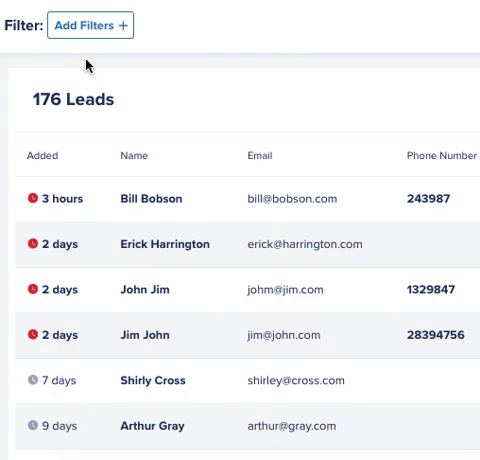 Filtering Leads by Date Created
Check-in on the 'Leads' who signed up in the past week, fortnight, or month. Use the Glofox filter to segment your leads by the date they joined and check up on their progress. Combine this filter with other filters to encourage movement along with the lead conversion flow.
Filtering Leads by Lead Source
By filtering by status, you can get more context on how your leads found out about your studio. Identify whether they registered on the Member app, making them eligible to receive push notifications or if they signed up via your website, either through your social media campaigns or the lead capture form, or if they were signed up by a member of staff in the studio.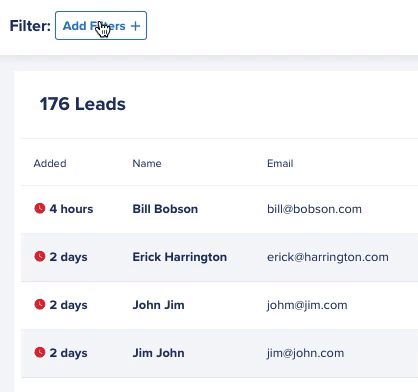 Filtering Lead by their Current Status
Filter your lead by Lead Status to give you and your staff more context on how far leads have gotten in your sales pipeline. Leads are automatically labeled as lead or trial, and your team can manually label leads as cold. With the lead status property, you can segment your leads based on previous sales activity and prioritize, which leads to reaching out to. Provide your staff with this information to ensure that all eligible leads are followed up with and nurture leads or run campaigns to re-market to those who, at the time, were not ready.
Filtering Leads by Trial Expiry
Have meaningful conversations with your leads by using the 'Trial Expiry' filter. This filter will allow you to communicate with your leads before their trial is due to finish. It will also improve your chances of converting them from a lead to a fully-paying member. Additionally, if you did miss the opportunity to reach out before the trial expired, you can re-target those leads with a special sign-up offer to get them back into your studio. This filter works with 'Memberships' only and not 'Service Credit Packs'.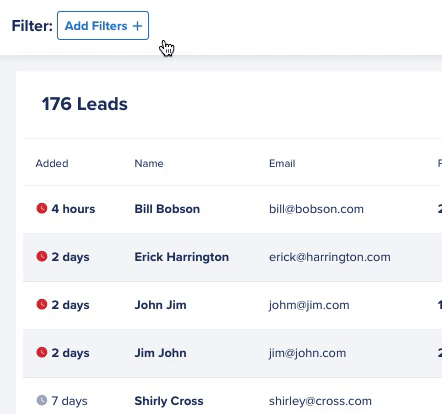 Suggested filter combinations
Combine 'Attendances' with 'Trial Expiry', or 'Lead Created', to uncover the most engaged leads who would be most eligible to reach out to and have the highest chance of converting to a member

Combine 'Last Contacted' with 'Lead Status' and 'Lead Created' to decipher which of your 'Leads' are on 'Trial' at your studio but haven't been reached out to recently to keep them engaged and interested

Combine 'Number of Bookings' with 'Attendance' to identify leads that are making bookings but not attending and reach out to them to encourage attendance

Combine 'Lead Created' with 'Lead Source' to get an understanding of how successful your online campaigns have been
Sending targeted messages to Leads
Once you've segmented your 'Leads' and identified the groups you wish to target, you can then decide on what message you want to convey to them. Once your engaging message has been composed, you can send an SMS, Push, or Message to the 'Leads' on your list.
Sending targeted SMS to Leads
Sending an SMS to targeted a group of 'Leads' is the quickest and most effective way to communicate with them. With a 98% open rate, you can be sure that your SMS will reach your targeted audience. This will give you the best opportunity to move them through the booking funnel and convert them to paying Members.
To send an SMS to a targeted list, follow these steps;
Once you've segmented your 'Leads' and identified the groups you wish to target

Click the 'Actions' drop down on the far-right corner of the dashboard

Select 'Send Message'

An SMS pop up will appear, type in your SMS

Decide if it's a marketing message or not and then click 'Send Message'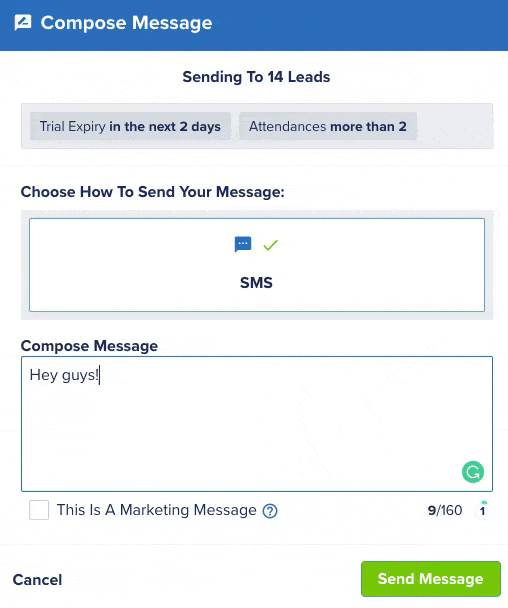 Please note:
SMS is an add-on service, for more information or to upgrade, reach out to your Onboarding Manager or email customersuccess@glofox.com
Marking a Message as a 'Marketing Message' will ensure that only those opted in for 'Marketing Messages' will receive your SMS. To learn more about this, read the GDPR guidelines
Sending targeted

emails and phone calls

to 'Leads'

If you would rather get in touch with your targeted list another way, you can download a CSV file of your Leads to collate their information. To do that follow these steps;
Once you've segmented your 'Leads' and identified the groups you wish to target

Click the 'Actions' drop down on the far-right corner of the dashboard

Select 'Download', this will download a CSV file

Open the CSV file in a spreadsheet view like Microsoft Excel or Google Sheets

Now you can see a list of information about those 'Leads' which include

First Name

Last Name

Email

Phone Number

Now you can easily send these members an email or give them a phone call
Next steps and additional support
Once you understand 'Lead Filters', you might want to check out the 'Lead Conversion Report'. Read more on this below;
For information on the Sales and Marketing tools or to upgrade contact your Glofox Onboarding Manager or email customersuccess@glofox.com