This article will take you through;
You've just received your new Standalone App, what's next?
The Glofox app is available across a wide range of devices and is supported by both Android and IOS operating systems. Firstly, your members must download the app from the App Store (IOS) or the Google Play Store (Android).
Please note:
This article is for those who have purchased the Standalone App add-on not the standard Member App
Communicating the app change to your clients
We know it can be difficult to communicate your app change to members. This is why we've created some graphics that you can download and share on social media or in your email marketing campaigns to make it easier to communicate the change with your members.
Supporting graphics for socials
Perfect for: Sharing in a newsletter or on Facebook
You can download the infographic, by clicking on the link at this end of this article.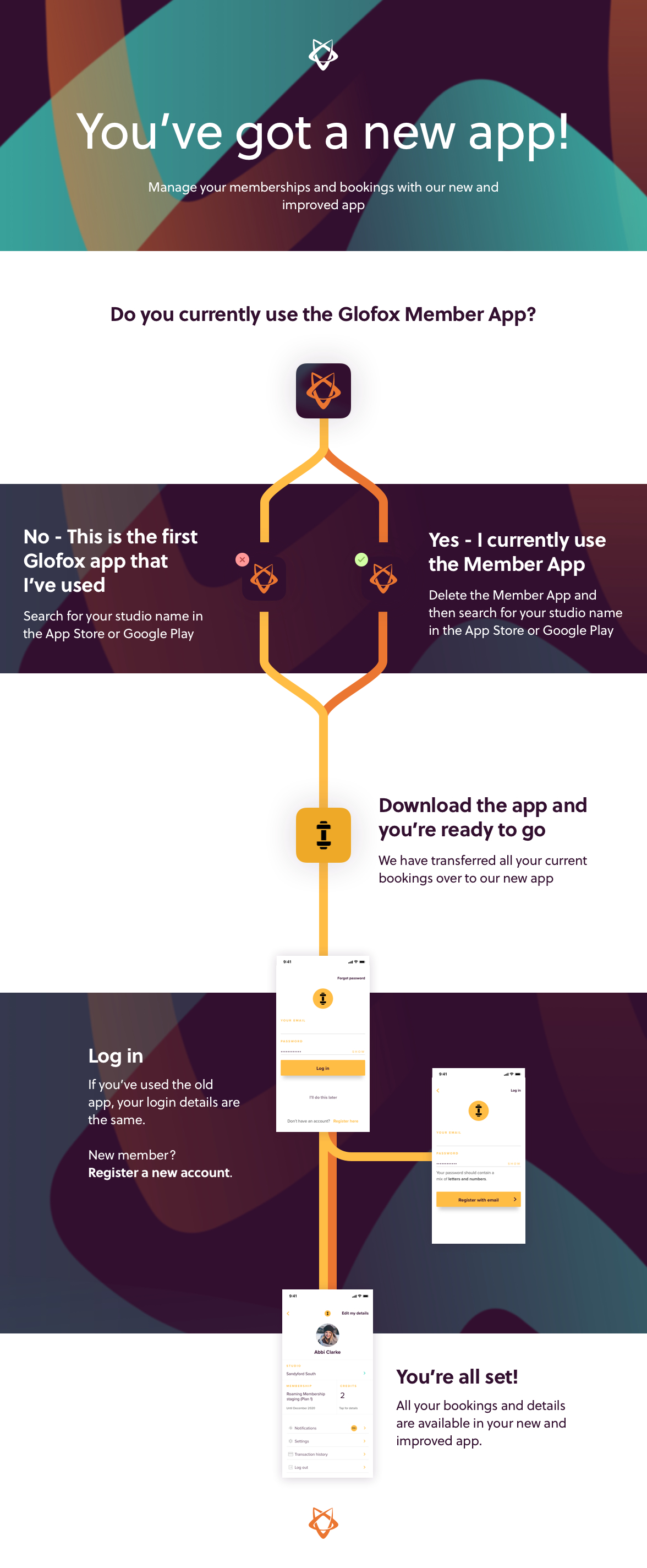 Perfect for: Sharing on Instagram
We've also split the 'how to' guide into six images that work perfectly as a slideshow on Instagram. Here is a helpful guide from Instagram on how to upload multiple photos in one post;
Links to download all of these images are available at the end of this article - they are named in the order you should upload them.
Updating download links on your website and socials
You may have links on your website, social media accounts or emails that make it easier for new clients to download the app. If this is the case, make sure that you update the links so new clients will download the right one.
Next steps and additional support
Once you have your clients onboarded to your new app, you will likely want to show them how to use it. Read the article below for more information;
Please note: The 'Standalone App' is an add-on and the 'Member App' is not available on all Glofox packages; for more information or to upgrade, please contact us at customersuccess@glofox.com or reach out to your Glofox Onboarding Manager.