This article will take you through;
What are Sales and Marketing tools?
Lead Capture
The Glofox 'Lead Capture Tool' is a customizable form that you can embed on your website to capture leads for your studio. It allows website visitors to create an account and book into their first-class as they fill out the form. The form is fully branded and fits neatly into your existing website and is customizable to capture more or less information and to bring the visitor as far through the registration process as you want.
Find out more about the 'Lead Capture Tool' here;
Lead Filters
In Glofox a 'Lead' is a potential client that has expressed interest in attending your gym/studio. They will have expressed interest in one of the following ways;
They will input their details to the 'Lead Capture Form' from a link you shared or from searching and finding your website themselves
They will drop in or ring you enquiring about your gym/studio and you will input their details

manually
Then they will populate on the 'Lead' tab of your dashboard. You can then filter these leads to analyze trends or send targeted messages.
Learn more about 'Lead Filters' below;
Lead Conversion Reporting
Better understand the efficacy of your studio's sales and marketing activities. Identify exactly where in the sales funnel leads drop off by tracking the progression of leads to fully-paid members. See how successful you've been at nurturing your leads through the sales pipeline and compare your conversion percentage to other time periods to see if your studio has been consistent in converting. Identify and address the areas where the most leads are lost to improve the final conversion rate.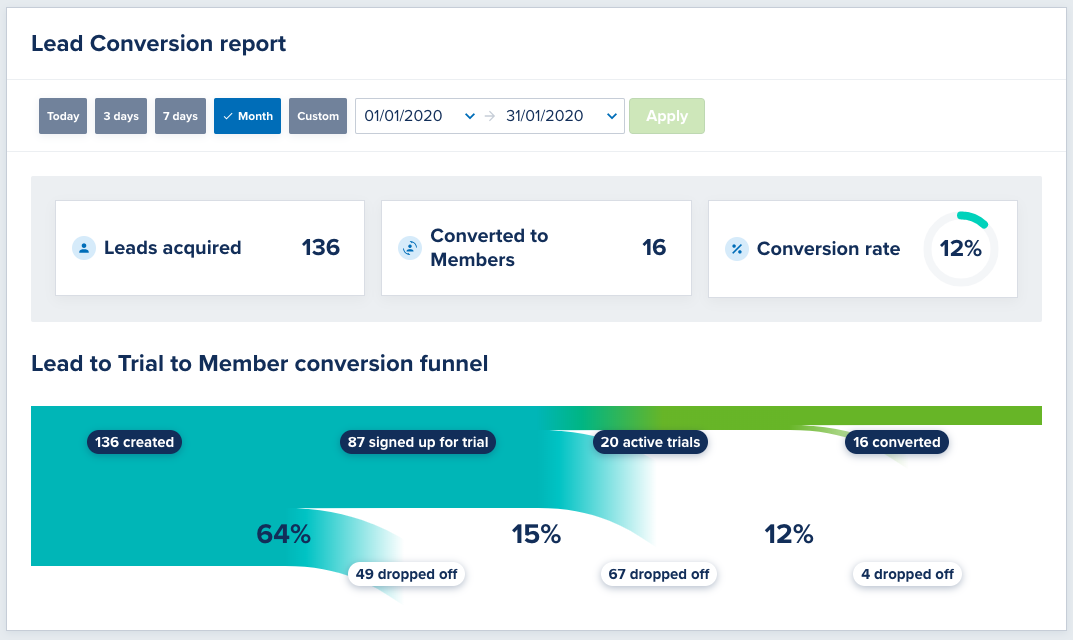 Find out more about the 'Lead Conversion Report' here;
Sales Attribution Reporting
'Sales Attribution' gives you the ability to assign a sale to a member of staff from the cart. This information, as well as the item and time of purchase, is then stored and can be viewed from the 'Transaction Report'.
Find out more about 'Sales Attribution' here;
Client Filters
Similar to 'Lead Filters' these can be found on the 'Clients' tab of your dashboard. Whether it's rewarding your most loyal members for their 100th class or engaging at-risk members who haven't booked in the past week - Client Filters enable you to boost engagement, loyalty, and retention.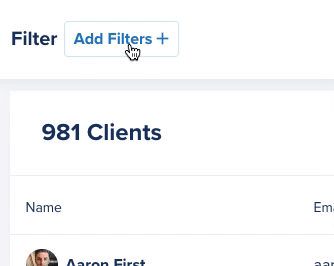 Learn more about 'Client Filters' below;
Lead Management
We help you manage your 'Leads' with the 'Traffic Light System'. The 'Traffic Light System' will show you;
New Leads - Green (0-30 mins)

Warm Leads - Amber (30-60 mins)

Old Leads -Red (60 mins+)

Targeted Leads - Grey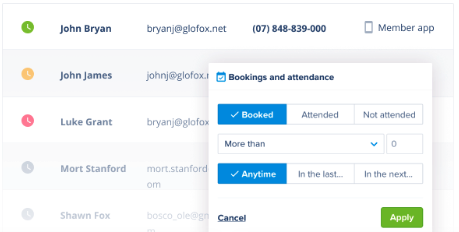 When a Lead first comes in, the colour of the light to the left of their name will show green. If that Lead has no interactions after 30 minutes, it will turn amber, and it will turn red after 60 minutes with no interactions.
If you contact or interact with a 'Lead' in any way, their light will switch to grey.
This traffic light system is a great way to help you manage who you have and haven't contacted.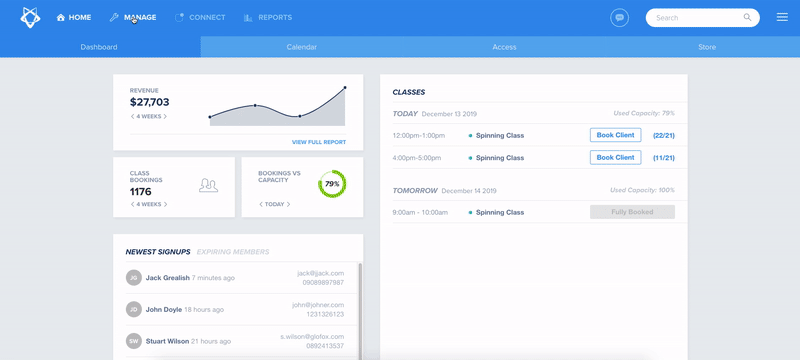 Read more on the 'Traffic Light System' below;
Next steps and additional support
The Sales and Marketing tools are not available on all Glofox packages. For more information or to upgrade, please contact your Glofox Onboarding Manager or email customersuccess@glofox.com