This article will take you through; 
What is a scheduled membership cancelation? 
When you schedule a membership cancellation you are simply letting the system know that a particular member on a 'Recurring Membership', will be ending their membership on a set future date. Once that date is reached the Membership will automatically expire. 
This may be beneficial if you have a policy whereby you enforce a 30 or even 60-day notice before allowing a client to cancel their membership. Until now, you would have to do this manually by setting yourself a reminder to cancel 'x' days from the time a client came to you with a request to cancel. 
With our latest feature, you can now schedule a cancellation, taking away the risk of forgetting and the effort of setting a reminder. Another benefit to this feature is the ability to easily schedule a 'Recurring Membership' cancellation in order to assign a 'Consecutive Membership'. You might want to do this if your client wants to switch their current membership type to another one after their next billing period. 
Please Note;
Currently you cannot schedule a cancellation for a restricted membership.

You can not schedule a cancellation if the membership has a contract renewal date.

Currently, if you cancel in the middle of a member's payment cycle they will not pay pro-rata for that month. It is at your discretion how this will be handled. You might want to refund half of the payment back to your member manually or inform them that they will be canceling mid-membership, therefore, missing out on half of their membership. 
How to schedule a membership cancellation
In the event that you need to cancel a member's membership, follow these steps;
Locate your member's profile from the 'Clients' list or use 'Global Search' to search for the individual member

Once you've located the member, click on their name

From their member profile, click on the 'Membership' tab


On the active membership, click the 'Actions' button

From the 'Actions' button drop-down menu, c

lick the 'Cancel Membership' button
Choose a date for the membership to be canceled
Click 'Confirm membership cancellation'
If your member is on a Recurring Membership, you will be prompted to cancel their 'Membership' or their 'Membership and Subscription'. If your member is on a Single Membership, you will only be prompted to cancel their 'Membership'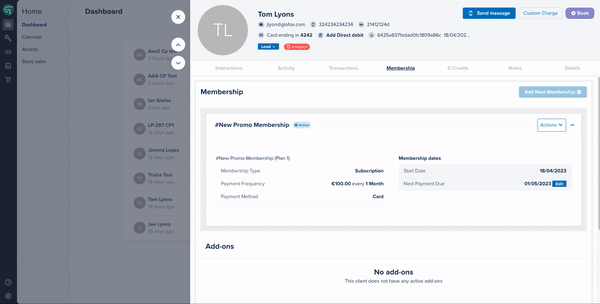 Please note;
Your member will remain on the Recurring payment schedule until the expiry date
If you decide to delete a member and that member is on recurring membership you must ensure that you cancel their subscription before deleting them. If you do not cancel the member's subscription*, it will continue to charge them even after they have been deleted.
*The subscription is the Recurring Payment attached to the Recurring Membership. 
Next steps and additional support
Want advice on membership fees? Read the below blogs; 
For additional support, reach out to support@glofox.com, and we will be happy to assist you.