This article will take you. through;
Please note;
The Glofox Marketing Tools is only available on our Platinum package, for more information contact our team at customersuccess@glofox.com.
How to capture Leads with the Lead Capture form
If you have the Sales & Marketing Add-on as part of your Glofox package, you can ask for the Lead capture to be embedded on your website and a member of the Glofox team will embed it for you. Just get in touch with your Glofox Onboarding Manager who'll schedule this to be done.
But, if you are comfortable with the technical process, or have a developer to do this for you, this documentation will guide you on embedding the Glofox Lead Capture form on your website;
The 'Lead Capture' tool enables you to capture your prospective clients' key contact information. You can market this as a 'Free Consultation' or an 'Intro Offer' etc. This is beneficial as many prospects will drop off when getting to the payment section of the sign-up, or might avoid committing to a class right away, but now you have their contact information to reach out to them if needed. Regardless of if they book or not, they will show up on the 'Lead' tab of your Glofox dashboard.
Your client will also have the option of booking into classes, courses, and appointments and completing their profile' from within the lead capture tool.
From the client's point of view, they will see a form tailored to your business and brand which will look something like this;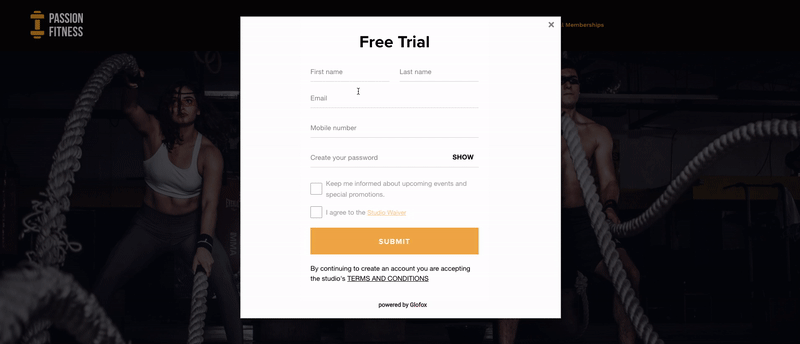 Your client will simply input their details and follow the prompts to register and book into classes, courses, and appointments and purchase memberships.
If you have a Member App included in your Glofox Package, the 'Register' page will also capture and track leads for you.
How to share a link to your sign-up page
If you would like to share a link that goes straight to your Gym or Studios' sign-up the page; you can do so by putting ?register at the end of your website integration URL, this can make it quick and easy for those interested in your Studio to create an account.
The link an sign up page will look something like this;
https://app.glofox.com/portal/#/branch/your_studios_unique_id_goes_here/memberships?register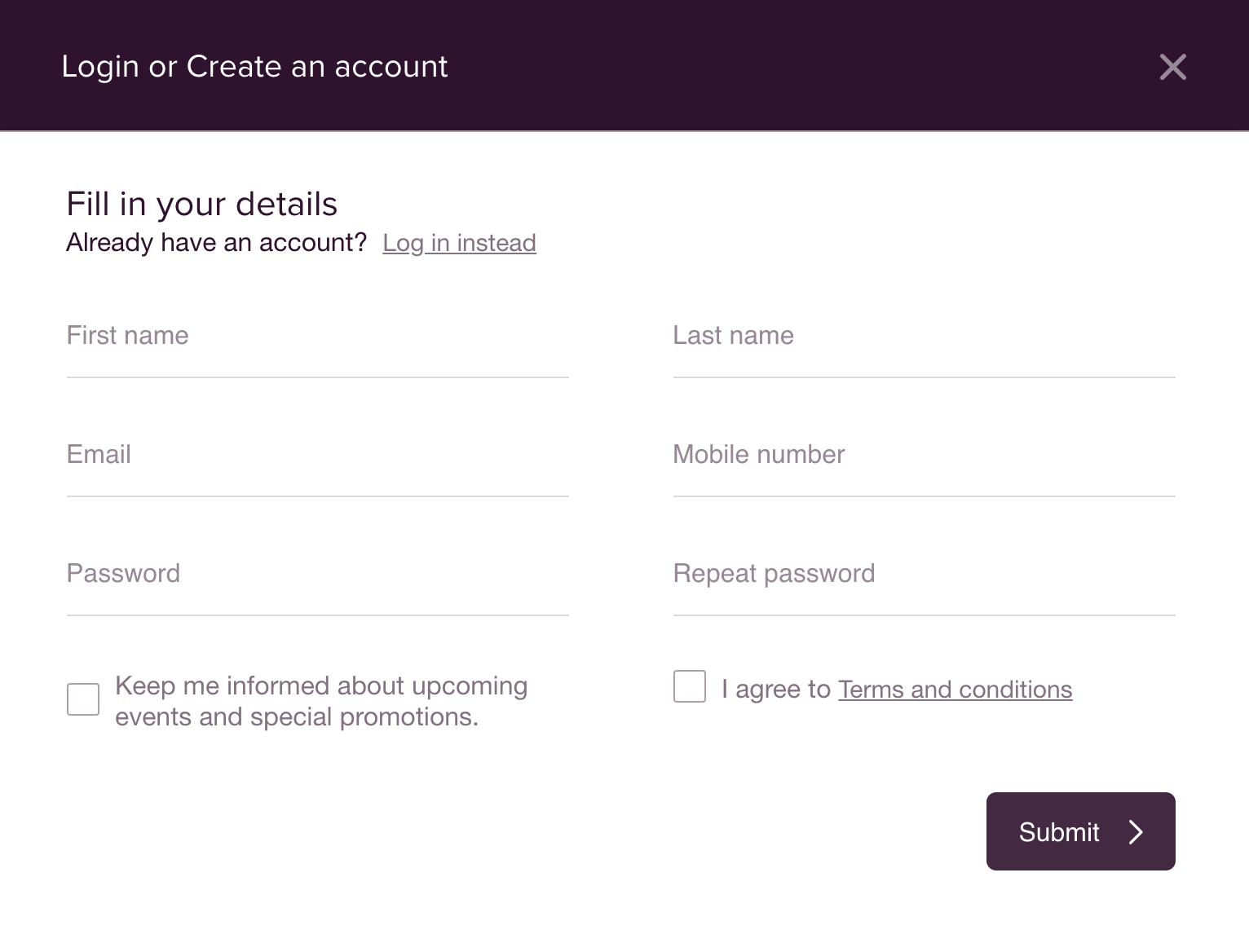 How to manually add Leads from the dashboard
If you are already using the Lead Capture Form, Leads will automatically be collected and added to the Leads tab of the Glofox Dashboard upon a person signing up to your Studio but you can also add a Lead manually if you need to.
To add a Lead manually, follow these steps;
From the dashboard, go to the 'Manage' tab

From here go to the 'Leads' tab

Then click the '+Add Leads' button

Enter the details of the Lead and click 'Add Leads'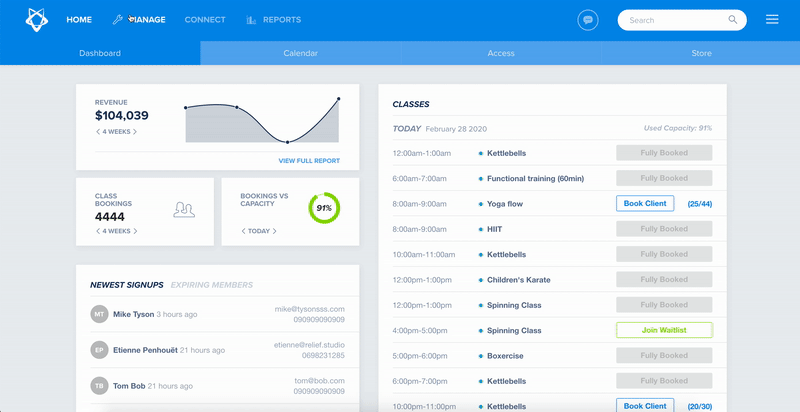 How to manually capture Leads from Glofox Pro
The same process of manually capturing Leads can be done on Glofox Pro. However, on Glofox Pro you will simply add a new client. If this client isn't assigned a membership then they will appear in the 'Leads' tab on the dashboard as opposed the 'Clients' tab. To add a Lead, follow these steps;
From Glofox Pro, go to the 'Client' tab

Click the '+' symbol on the top right-hand corner of your screen

From here, fill in your client's information

Once your client's profile has been filled in, click 'Create Profile'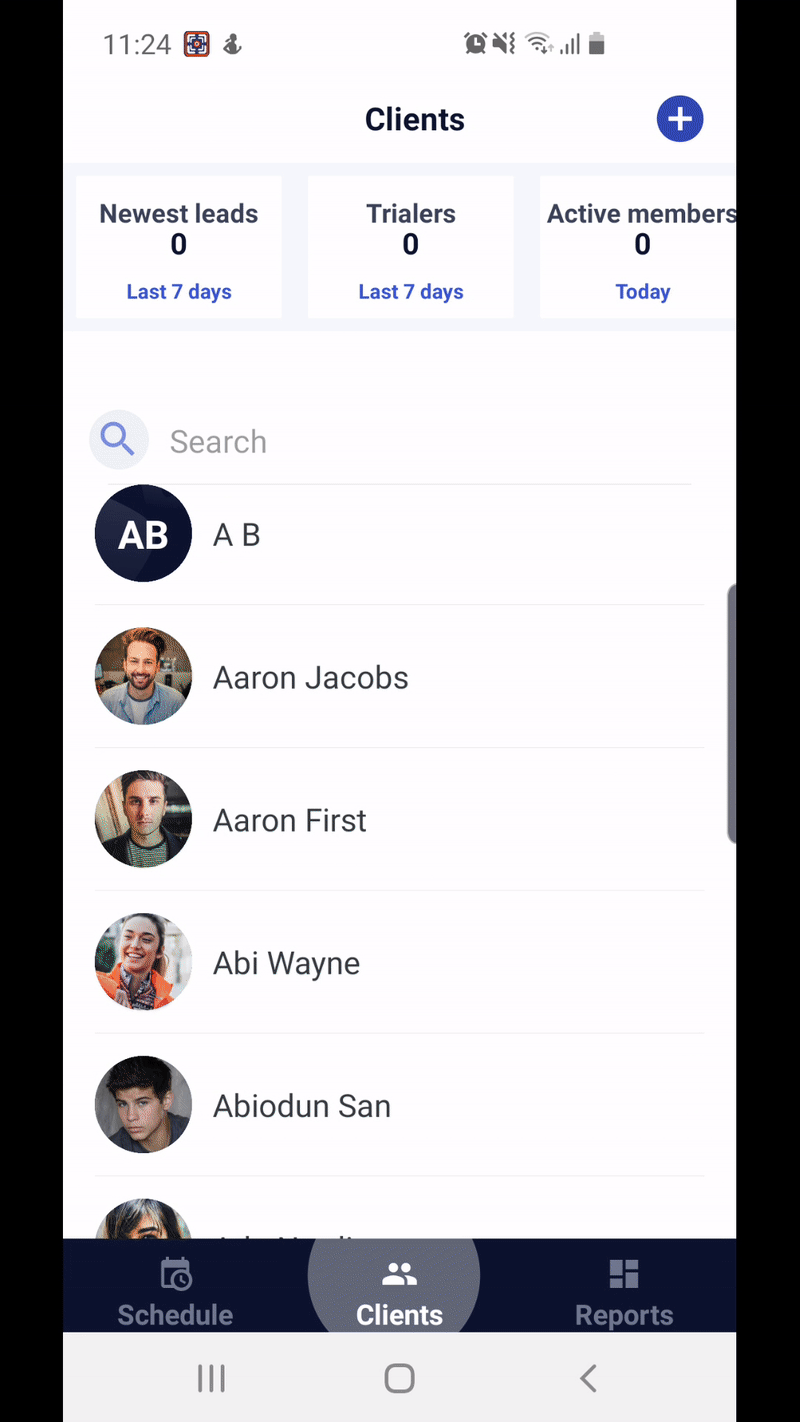 Tip; You can add a photo to your client's profile from your phone image gallery, or take a photo and upload it directly. To do this, click the '+' symbol beside the empty profile icon on the top of the screen
Next steps and additional support
If you are interested in any of the feature above, reach out to your onboarding manager to discuss upgrading or email us at customersuccess@glofox.com
For more information on Lead Filters click here;
For additional support reach out to support@glofox.com and we will be happy to assist you.