This article will take you through;
What is a Pause on a Membership?
With Glofox, you can easily 'Pause' a client's membership. You may want to 'Pause' a membership if your client has informed you that they are going on holiday, and you agree to extend the end date of their membership for them. Or maybe your client has an injury and needs some time away from working out.
Please note;
You currently can't pause a membership that is set up to charge on the 1st of the month. However, we are working on this feature and it will be released soon.
How to Unpause a Membership
There may be times when you need to edit the pause date. For example, your client might return earlier than expected from a trip, this is often known as 'unpause' however, it is also possible to change the pause date to another future date. To edit, select the 'Edit' button, choose the new date and click the green tick '✓'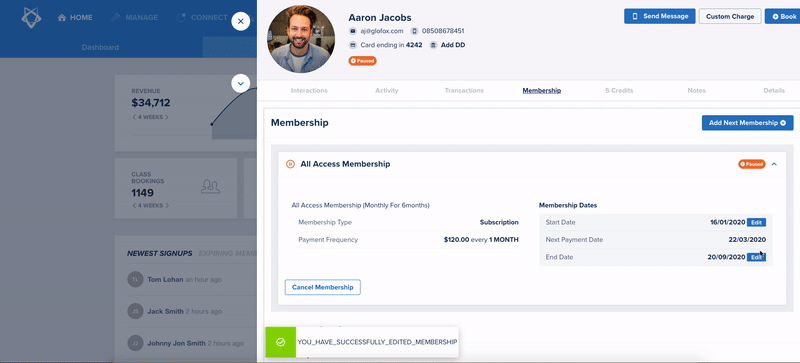 Please note;
By editing the 'Pause' re-activation date, this will not change the next payment date. If you are trying to edit the next payment date of a membership, the best method is to cancel the current active membership and subscription. Then re-add the membership, with a future start date of when you want the payment date to be.
To learn about pausing a membership from Glofox Pro, read the below article;
Next steps and additional support
To find out more about 'Memberships' read the articles below;
For additional support, reach out to support@glofox.com, and we will be happy to assist you.