This article will take you through;
What is an Overdue and Unpaid Account?
When a member has an outstanding failed payment on their account, they will no longer be able to make bookings or attend classes and their account will now be considered 'Overdue'.
If you are unable to collect any payments from an overdue account during its current payment cycle, it will then be considered 'Unpaid'. More on this below.
This only affects those on Recurring Membership, as Single Memberships won't start unless a payment is made.
How do I collect payments from Overdue Accounts?
The Glofox Payments retry process
If you are using Glofox Payments the retry process is as follows;
If a member's recurring payment fails on the first attempt, we will attempt to take the payment three more times over the coming days making it four attempts in total. This applies to both card and direct debit payments. After the first failed payment, the member will not be allowed to use the membership they are on to book until a successful payment has been made.
If the 4th and final attempt to take payment is unsuccessful, the member's membership will not be updated. These will now be considered 'Unpaid'.
Find and action payments manually (Optional)
With our new 'Overdue' filter in the 'Clients' tab, we have made it easier for Admins and Super Admins to locate and action accounts that are unable to use their membership due to a failed payment. This means fewer complaints from clients unable to book into classes and an easy way for you to recover failed payments.
To use the 'Overdue' filter, follow these steps;
From the dashboard, go the the 'Clients' tab

From here go to 'Filter' and click on '+add Filter'

From the dropdown, click 'Overdue'

You can add additional filters to specify if the client has credits remaining, or if they have had a certain amount of booking, etc.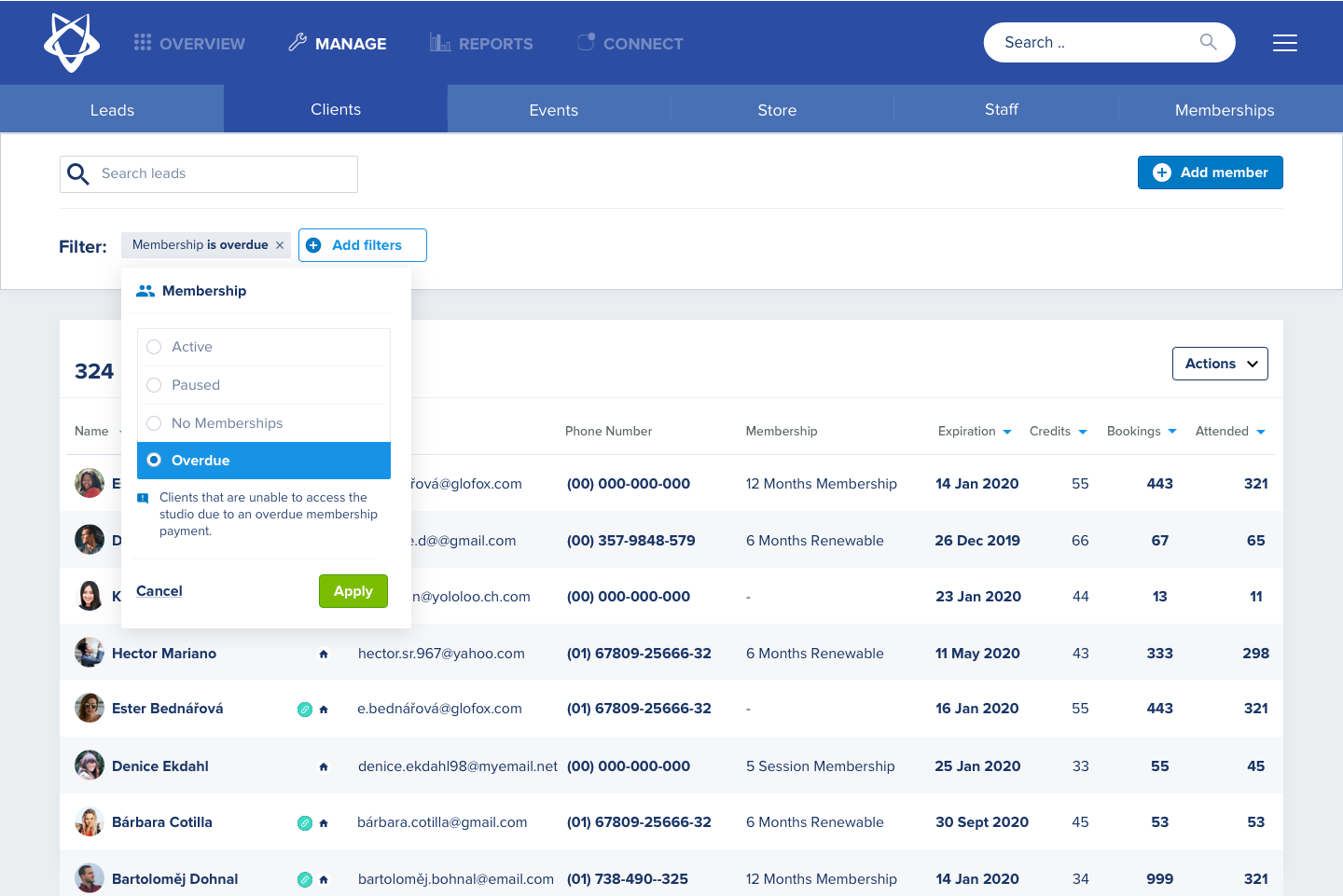 You can now;
Begin contacting members directly from the list provided in the dashboard

Click 'Actions' and 'Download' to download a CSV file of the overdue members

Click 'Actions' and 'Send Message' to send an

SMS

to overdue members, if you have SMS included in your package. (This method will only send a message tho those with a valid phone number on their account)
Please note;
Client Filters are not available on all Glofox packages, for more information or to upgrade email customersuccess@glofox.com
Keep Subscriptions Running for Future Payments
It's now possible to continue collecting payments on the next payment cycle even if the membership has moved from 'Overdue' (a failed payment) to 'Unpaid' (all attempts to take a payment in the current cycle failed)
For example, if all attempts to take November's payment fails we will still automatically attempt to collect the next payment in December. As opposed to before when we would avoid an attempt at taking next month's payment. When December's payment collection is attempted, November amount owed is not included.
Please note;
This feature will only switch on with your request. To gain access to this feature email us at customersuccess@glofox.com

Be mindful that collecting payments this way may upset some customers that have decided to leave your studio or those who have fallen on hard times. Only use this feature if you feel it's necessary.
Next steps and additional support
For more information on Payments and Overdue Memberships, read the following articles;