This article will take you through;
What's new with Glofox: Live Stream Your Classes
There is now an easier way for you to set up live stream classes using the Glofox booking system. These new features make the process of offering online classes to members easy, and it saves you the effort of tracking down paying members to email them links individually.
Now, when members book, they will be sent an automated email (customizable by you) containing class details and a link to your live-streaming class. This means you will no longer have to manually pull a class list to send Zoom or Youtube Live links to your members!
Your members will receive a Glofox auto-generated link to their email. This link will automatically redirect them to your live workout. If they arrive 30 minutes before class is due to start they will be taken to a holding page that will look something like this: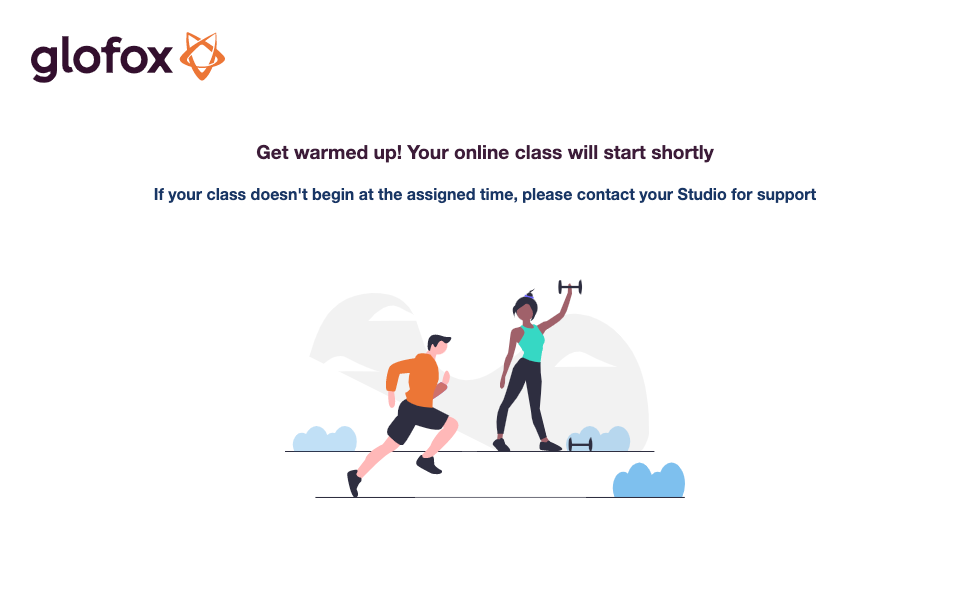 How to set up Glofox Live Classes
To set up a Glofox Live Class, follow these steps;
First,

ensure there is an online facility with a camera icon in your list of facilities. If you don't see 'facilities' in your menu, try this link: https://app.glofox.com/dashboard/#/facilities

Check to see that the facility is there, and is not editable
You should not create another facility with the name 'Online' - this will cause issues with classes that use the manually-created 'Online' facilities.


Next, you'll need to review your new message in Connect > Messages > Online Class Booking Confirmation Message.

You can edit this message to suit your brand and company ethos. You can also put the event time on the subject if you have members who book many classes at one time. This helps them find emails for their classes in the inbox. If you're planning on streaming with Zoom (

recommended

), we suggest you add in information on how to join a Zoom class. Here's a handy PDF guide you can link them too:

How to Join a Zoom Class
Tip:
If using Zoom, use the 'Embed Password in Meeting Link' option. For more information on this and on how to set up Zoom, visit the following article:
Lastly, there is a new variable called 'Live Class Link'. This link should already be a part of the message. Please do not remove it. It is set up so members get a unique link to the class and track their clicks on your live class URL. The URL can be long; there's no need to use a URL shortener. You might choose to set it up as an embedded link with text like 'Click Here' - note that saving the template may disrupt the [live_event_link] text that is embedded. Check your hyperlinks when saving your template.
Please Note;
There is an issue with the holding page that attendees for classes that were created before March 28th. The holding page will not let members into that class because the class ID was generated before the features were created. While we look into this issue, the workaround is to keep the old classes with the physical facility as is, and create a new class as a duplicate of your existing class, and configuring it to be 'Online.' This will be a helpful configuration for when you return to having in-studio classes, as you can hide the version of your classes set up for online attendance.
Tip:
Setting an End Date (Manage>Classes>Advanced) on your classes that have a physical facility, and then creating a new series of classes with an 'Online' facility is another way to manage this transition. Members will have to re-book (or you will have to re-book members) to the new class with the 'Online' facility.
From the dashboard go the 'Manage' tab

Then click on 'Classes,' now you'll set up a class as usual, but you will see a new field: Class Type.

Select 'Online'

The facility will automatically change to 'Online' facility and become uneditable.

Next, you're going to create new classes using the 'Online' facility. To do that follow these steps;
How to set up a Schedule for Live Classes
If you're setting up new classes, you will also want to create a schedule for those classes. To set up your class schedule, follow these steps:
After you've set up the Class details, select the 'Schedule' tab

Then input days you want your new class to occur

Set the times the classes are on

If the same class is on two times in one day, click the 'Add' button beside the class time.

If you want this class to be non-recurring (one day only), set the start date and end date to the same day

If the trainer, level, or capacity is different for a one-time slot, click the 'Cog' button for more options

Click 'Save'
Please note;
You cannot change the class type after you have saved the class.
Next, you'll need to figure out which streaming platform you're going to use. We highly recommend using Zoom as it allows for better communication with your clients, and therefore gives a better member experience. More on this here:

How to Choose and Configure a Live Workout Streaming Platform

Once you have decided on a streaming platform, you will need to copy and paste the stream link in your class. The link will go into the 'Class URL' field. You can put this link into the class immediately after you change the class facility to 'Online' or anytime before your class is due to start. To do this, locate the class you want to add the link to and paste the URL into the URL box.

The Glofox auto-generated link in the "Online Booking Confirmation" message will redirect members 30 minutes before the class is due to start. (Please note: if you haven't managed to input the link in time don't worry, update the link as soon as you can and then the link will redirect) You can even change the link throughout the week before the class, without impacting your members.

It's good practice to test out this process yourself, so you understand how it works. To do that, set up a test class and sign up for it. As long as you have followed the steps above, your members will receive a link to their email. This link will then redirect to your stream 30 minutes before the class is due to start.
Some things to remember before you get started
You should update members on the new process to receive their online class links via Glofox as early as you can so they know what to expect. E.g.,

Make sure to inform them that they will receive a link via email after booking in and that the link will redirect 30 minutes before the class is due to start

If you usually post in a Facebook group or send a Whatsapp message etc., make sure to tell them that you've streamlined the process

Use a combination of Push notifications, SMS, email, and social media posts to get your message across

Put members at ease by overcommunicating the new way they're going to receive links to their classes

Ensure your new Online Class Booking Confirmation message is set to 'active' and that your template has [live_event_link] somewhere in the body.

Read up on how to host an online class and make sure to practice your session before you go live:

Knowledge Base
Next steps and additional support
Having issues? Read the following FAQ's for troubleshooting advice;
For more information on Glofox Live check out the following articles;
For additional support, reach out to support@glofox.com, and we will be happy to assist you.