This article will take you through;
How to identify Leads and new Members in Glofox Pro
Now it's even easier to deliver a first-class experience to prospective Members using Glofox Pro.
With the latest update, you can quickly identify members who are on a trial membership or those who are attending their first class. This allows you to single out new members to give them any extra attention they may require.
This new enhancement to Glofox Pro highlights members with a 'First' or 'Trial' icon so your staff can deliver a first-class member experience to new members and those that might convert to fully-paid members in the future.
Before this update, it was difficult to know who your leads and trials were - making it difficult to give them a warm welcome. It was also difficult to know who might be new to the Studio and in need of a guided tour or additional supervision.
Where you'll find the 'First' and 'Trial' icons
You'll see the 'First' and 'Trial' icons on any Member that is attending a Class for the first time and those on a Trial Membership. These icons will be visible to applicable Clients from Class lists.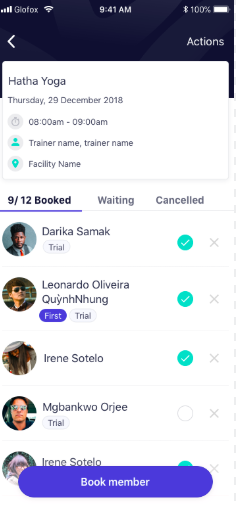 Next steps and additional support
Glofox Pro isn't available on all Glofox packages; for more information or to upgrade, please contact us at support@glofox.com or contact your Glofox Onboarding Manager.
For additional support, reach out to support@glofox.com, and we will be happy to assist you.