This article will take you through;
The Standalone App Agreement Acceptance Process
After launching your branded standalone mobile app, you may be required to accept an updated license agreement from Apple. We recommend checking in occasionally to see if this or any other important updates are pending in your Apple account. These updated agreements are required to maintain your Apple Developer account, and we won't be able to complete it on your behalf. Here's how it works:
Go to the

Apple Developer

website.

Enter your Apple ID, then click

Sign In.

Note

: Make sure you're logging in as the account owner. This can't be completed by anyone else at the business.

You'll see a banner across the top of the screen. Click

Review Agreement

to view and accept the updated terms: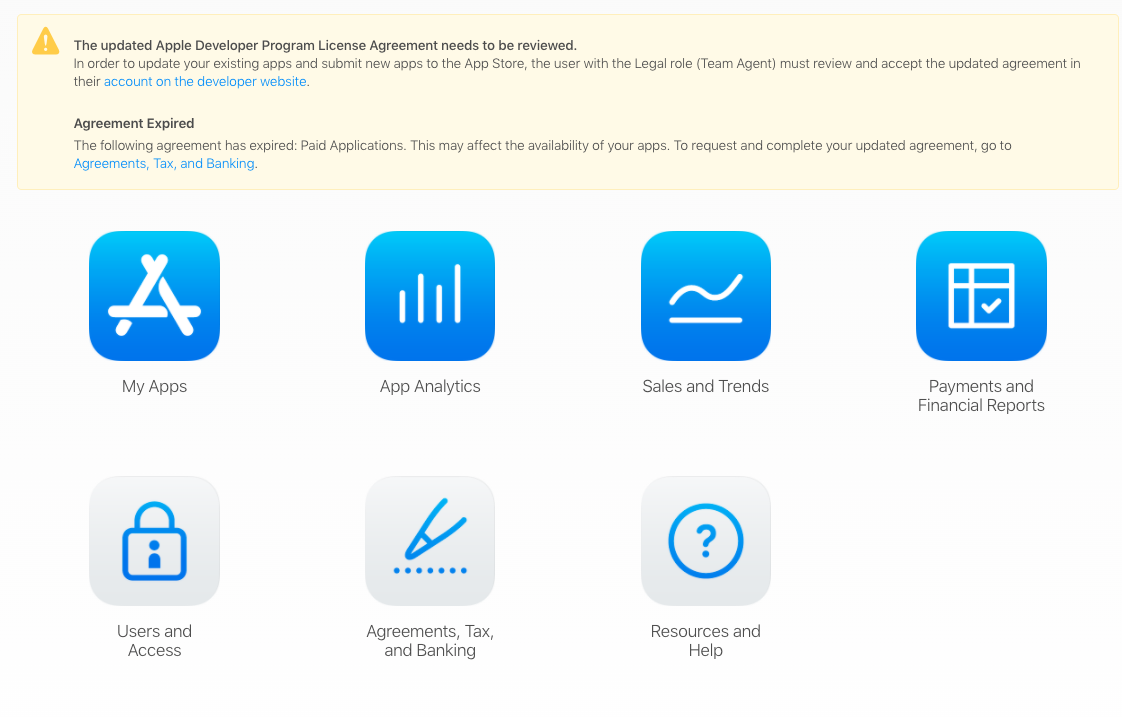 What if I don't see the banner?
Try accessing the "Agreements, Tax, and Banking" page directly through your Apple Developer account. Any critical updates or approvals will always be shown on that screen. Click here to access Apple's step-by-step instructions on how to find and accept these agreements.
There may be a 'Paid Apps' agreement to be also accepted. While your app may be free, we require all outstanding agreements to be accepted when released, or we cannot gain full access to your account. If you see an agreement for paid apps, you may need to complete some steps before accepting it.
You will then need to click here:

This will take you to a new page. On this page, there will be several sections for you to fill in to accept the agreement. First off, these two sections must be filled in:

Lastly, you will need to add details for these user roles (no need to add unique information for each role - you can use the same info for all contacts if you wish:

Once the relevant sections have been completed, you will able to accept the agreement.
How do you know the agreement has been successfully accepted?
The agreement will be 'Active' & the light next to it will turn green:

Next steps and additional support
Please note;
The Standalone Member app is not available on all Glofox packages; for more information or to upgrade, please contact us at customersuccess@glofox.com or reach out to your Glofox Onboarding Manager.
For additional support, reach out to support@glofox.com and we will be happy to assist you.