New: How to Use Account Balance for Recurring Memberships
What is Account Balance
Account Balance is a new feature that streamlines the payment process by allowing clients to put money into their account so they can use it later. It also removes the restriction where you can only process a sale if the client has cash on them at the point of purchase.
For example;
You can process the sale of a credit pack for your client with an 'Account Balance,' which would then leave a negative balance. Your client would later pay that balance the next time they attend your gym/studio.

You could also allow your clients to add a monetary value to their account, which they can then use to purchase products like water or t-shirts without needing to bring their wallet with them.
And now, you can use a positive Account Balance to take the first or subsequent payment for a Recurring Membership.
Please note:
You will still need to set up a card or direct debit to take the remaining payments.

The positive account balance must be used for one full payment; partial payments are not currently possible

Account Balance is not available on all Glofox packages. For more information or to upgrade, reach out to us at

[email protected]

Once Account Balance has been added to your package, it must be switch on from the Payment Settings tab, more on there

here

.

Once switched on, you cannot avoid taking the Account Balance as payment if the full amount is available.

This works with Glofox Payments

only

- not Stripe Standard.
For more information on Account Balance and how to set it up, read the following article:
Using Account Balance for Recurring Membership
It's now possible to use a positive Account Balance for Recurring Memberships. To allow this, ensure that you have Account Balance as part of your Glofox package and then switch it on from the payments settings by going to the Menu icon > Settings > Payments > Account Balance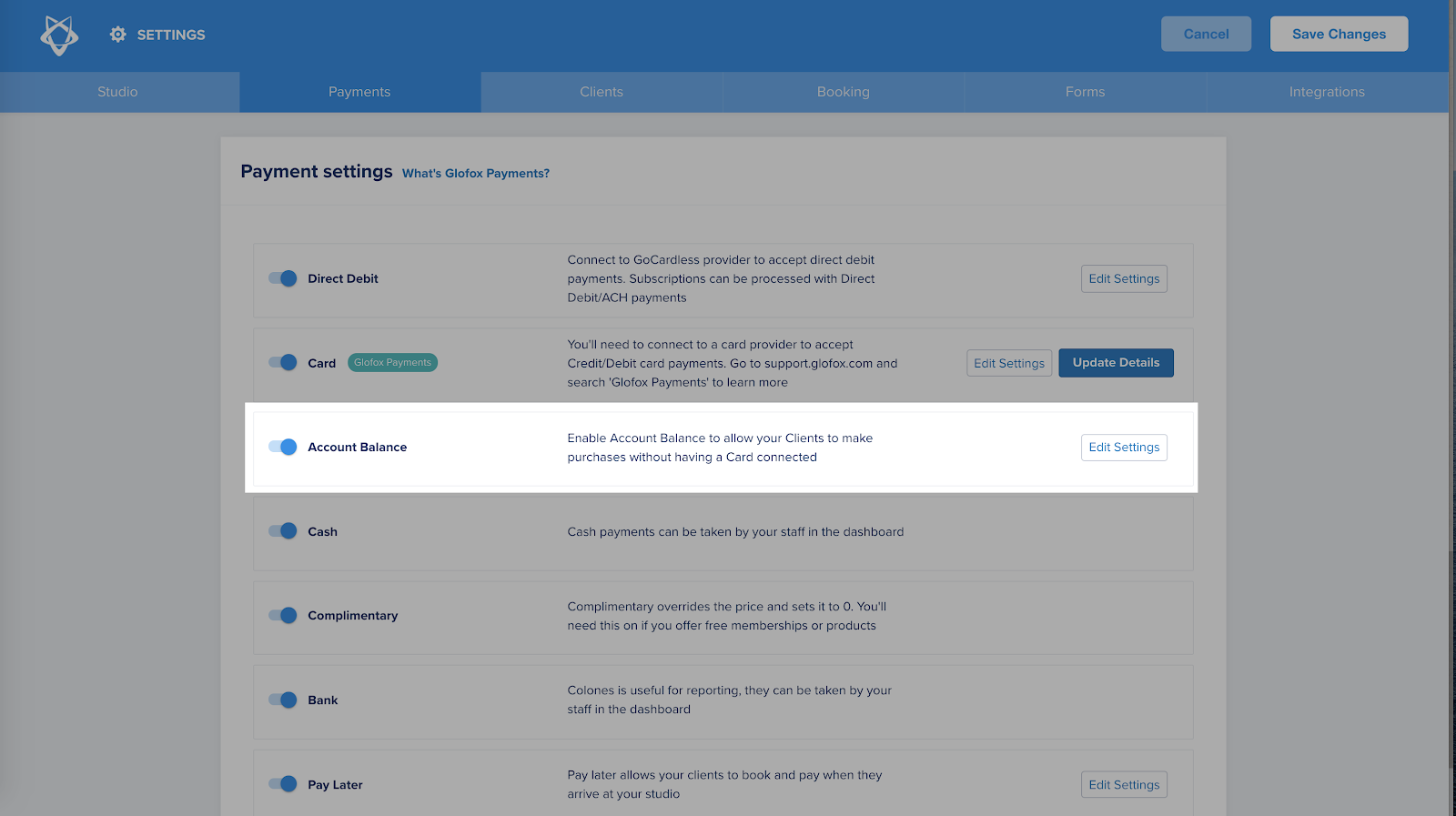 It is now possible to accept a positive Account Balance as full payment for the first or subsequent Recurring Membership payments. Simply select Account Balance as the Payment Method when assigning a Membership to a Member.
As long as your client has enough in their Account Balance to cover a full payment, Account Balance will be used. If there are insufficient funds to cover the entire purchase, the system will default to use the Card or Direct Debit on file.
Please note:
Using a positive Account Balance is in early rollout; therefore, there are some restrictions:
The revenue report will not show account balance top-ups or items sold using account balance as a payment method

Clients will need to speak to their Studio to find out how much they have in Account Balance

Clients cannot choose Account Balance as a payment method, an authorized member of Staff can only action this
Possible use cases for Positive Account Balance for Recurring Memberships
There are many scenarios where using a positive Account Balance for Recurring Memberships might come in handy.
Giving the first month free for 1st prize in a Studio based competition - by adding a complimentary Account Balance before selling a Membership

Adding a month free as thank you for referring a member - by adding a complimentary Account Balance before selling a Membership

Allowing clients to purchase Account Balance as a gift for someone, who can then use the Account Balance as some free time on a Membership:

How to Sell Gift Cards Using Account Balance
Next steps and additional support
For more information on Account Balance and how to set it up, read the following articles: