How to translate Glofox to another language
In order to update the language of your Glofox dashboard and/or your member app, you will need to get in touch with our technical team to facilitate the change.
This may include a translation and maintenance fee, depending on the scope of the update and the language requested.
You should reach out to support@glofox.com and our team will provide you with more information for your specific request.
We currently support the following languages:
Danish

Dutch

English

Finnish

French

German

Italian

Japanese

Portuguese (Brazil)

Russian

Slovenian

Spanish (Europe)

Spanish (South America)

Swedish

How to change labels in Glofox to another language
If you want to update certain labels or terminology in the Glofox dashboard so that they appear in your language of choice, you can use the 'Dictionary' to do so. For example, you could update the link to your "Reports" section with a translated version of the word "Reports" in your language of choice.
If you have the 'Dictionary' as part of your Glofox package, you can make changes to it by following the below steps;
From the Glofox dashboard homepage, c

lick the

☰

icon on the upper, right-hand side

Then click 'Dictionary'

From here you will see a list of customizable terminology, to search for a specific term press CRTL+F on your keyboard and type in the term you are looking for

When you've found the term you want to edit, click it to change and enter the new term in the box beside it

Once you're happy, click the tick symbol '✓' and the word will be updated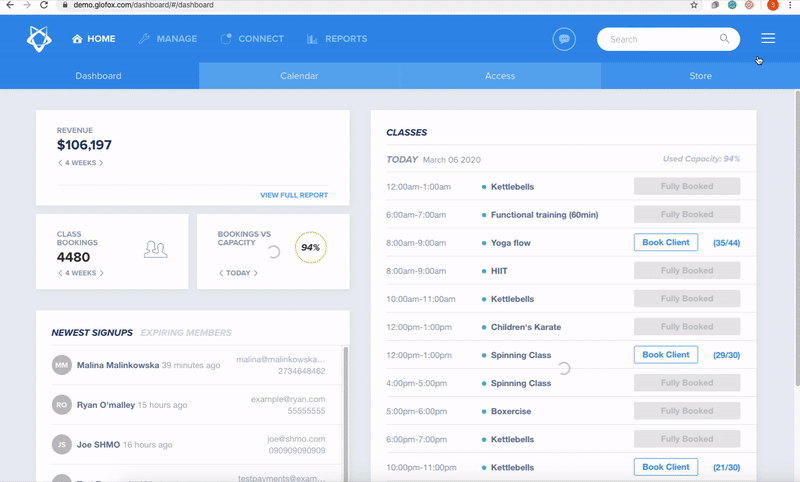 When you make a change to the 'Dictionary', the changes are also reflected in the Member App and Glofox Pro.
Please note;
The 'Dictionary' is only available to customers on our Platinum plan. For more information or to upgrade get in touch with your Onboarding Manager or reach out to customersuccess@glofox.com
Next steps and additional support
Once you have your "Dictionary" set up, you may want to consider other branding and customizations available to you. You can check out our guides below for more information;
For additional Glofox support reach out to support@glofox.com and we will be happy to help.