This article will take you through;
What is class attendance?
Class attendance provides you with information on who has attended your gym or studio's classes based on the check-ins and attendance reports that your staff submits as your clients attend classes. In order to track class attendance, client attendance must be recorded. One of the ways your staff can do this is by submitting an attendance report. You can find the details on how to do so below.

You will only have the option to submit attendance if the strike system is turned on, if not this will be submitted automatically after each class. You can manually change each users to be marked as attended or not at any time after. For more about the strike system see here "How to use Strikes"
How to submit a class attendance report for a class
Follow the steps below to submit a class attendance report on the Glofox dashboard homepage:
Navigate to your calendar

Locate the class you want to submit an attendance report for and click on it

Once you are sure that every client has completed check in, you should click the 'Submit Attendance' button on the right-hand side of the page. If a client checks in after this, you can always click 'Resubmit Attendance' and the report will automatically update

Click the 'Submit Attendance' button on the pop-up message that appears on the screen and the attendance report will be submitted for this class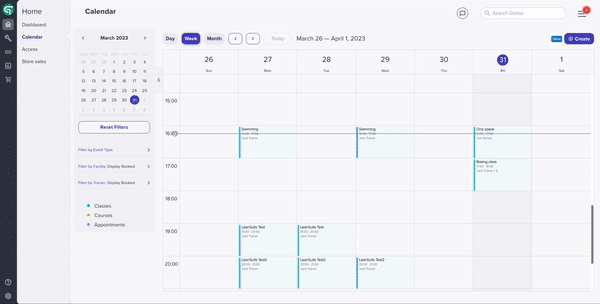 Next steps and additional support
To find out more about tracking attendance and attendance reporting, check out our guide on How to Track Class Attendance.
If you'd like to learn more about Classes, Courses, and Appointments in Glofox, you can check out our resources below.
For additional support, reach out to support@glofox.com, and we will be happy to assist you.