This article will take you through manually adding credits to a Clients profile
How to Manually Add Credits


Credits can be manually added from the Credit section of a Clients profile
Navigate to the User who's profile you wish to add credits too.
Select the tab that says 'X Credits' (x being the users current number of credits)
Click the "Add Credits" button on the right of the page
After the new credit pack appears, edit it to specify what it can be used for and for what date range, if applicable using the "Edit" button on the credit pack.
Click 'Save'. (If you choose not to edit the pack and wish to keep the defaults, you must select 'Save Changes' on that page before navigating away, or your changes will be lost.)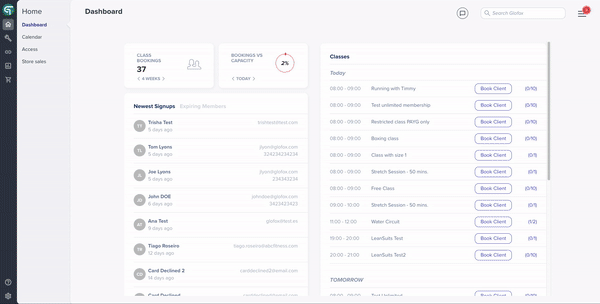 Please Note;
Credits can only be manually added via the Dashboard and not the Glofox Pro at this time.
Difference between Manually added credits & Purchasing a Credit Pack
When you manually add a credit pack to a clients profile, they will not be charged for this. It is a great way to reward clients and give them a free class to use. These credits are not tied to any membership. Manually added credits still appear in the Active Credit Report in the Report section.

If your studios are roaming, manually added credits cannot be used to roam at this time. We reccomened setting this up as a Service Credit Pack which you can set with a price of 0 and set to Private.


For additional support, reach out to support@glofox.com, and we will be happy to assist you.