This article will take you through:
What are payment dates?
Payment dates (or Billing dates) are agreed upon dates that recurring membership payments are taken from your members for that period's membership payment. 
How to edit the payment date?
Go to your client's profile from the 'Clients' tab or via 'Global Search' 

Click on the 'Membership' tab

Click the 'Edit' button beside the 'Next Payment Due' date

Select new payment date from drop down

You will be shown supporting detail regarding requested date change

Confirm date by clicking on 'Change Payment Date' button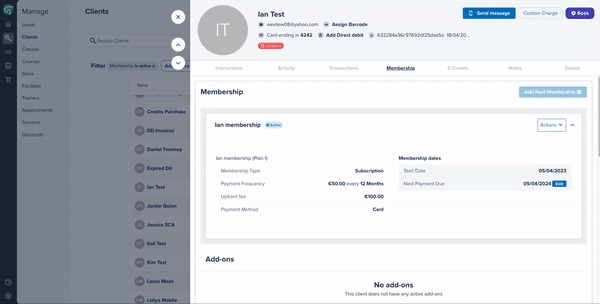 Things to be aware of when editing payment dates
You can only change the payment date for an Unlimited Subscription.
The membership must currently be active. You cannot edit the payment date of a future membership. 
The membership end date will change inline with how many days you move the payment date. (e.g. if you move payment date forward 2 days the member will have their membership end date moved 2 days as well)
Moving the payment date forward by X days will cause:
The payment date to move forward by X days per cycle

The customer to be given X free days of the membership
Moving the payment date backwards by X days will cause:
The payment date to move backwards by X day per cycle
Pro-rated memberships can only be moved in monthly increments.
'Add-on' services will automatically have payment dates changed to match the membership payment date.
Next steps and additional support
Below you'll find some more resources related to memberships 
For additional support on changing payment dates please reach out to support@glofox.com and we will be happy to assist you.