Around the world gyms and studios are opening back up. Restrictions vary across different regions and states. Many places around the world require Covid Vaccinations in order to access Gyms & Studios. In this article we will take you through the best way of managing this process with your members

Next steps and additional support
Keeping track of a Member's Vaccination Status:
It is not possible to upload vaccination certs directly into Glofox but there are other ways of keeping track of this within the Dashboard.

By using the notes section you can create a question once which will then appear on all of your members' profiles. For example creating the question "Vaccination Certificate" you can then answer Yes/No on each members profile

In addition to this if you are storing the vaccination certs elsewhere, like a google drive, you can use the notes section to create another field in which you can leave a URL link to the location of the cert.
For further information on the Notes section please see this article here


Please Note;
Members will not be able to answer these questions themselves, they can only be answered by Receptionist/Admin or Super Admin profiles on the Dashboard.

The answers on the notes section are not available in the CSV download for the Members list.
Preventing Unvaccinated Members from booking
If you need to stop members from booking you can achieve this by using the strike system.
The strike system will prevent people from booking into classes if they have reached the strike limit you have set.
If you are not already using this system see here for further details on how to set up. What is the Strike System?

Once the strike system is set up, to add strikes to a members profile follow these steps:
Open the clients profile

Click the details tab and scroll to the strikes section at the bottom of the page

Click on the number and enter the strike limit. If the strike limit is met, a red box will appear around the strike setting on the profile.

Click Save changes
Members will then be prevented from booking, with an error telling them to contact the studio.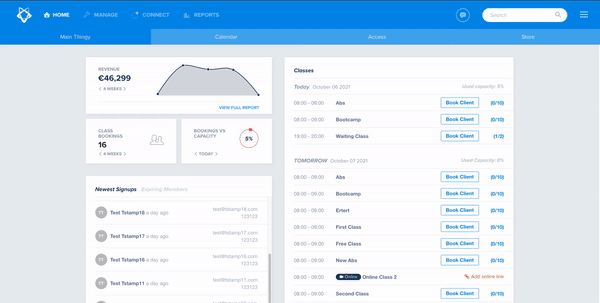 Please Note;
If you are not already using the Strike system, set the limit to a very high number so as not to have any other customer unintentionally reach this limit and be prevented from booking.

Reaching the strike limit will not prevent users being granted access to a studio via scanning in.

If the member later produces proof of vaccination, you can simply remove the strikes from the members profile in the same way.

Next Steps and Additional Support
For more tips on setting this up check out these articles:


If you have any questions on this, please reach out support@glofox.com who will be happy to help!