The article outlines the steps necessary to enable your Glofox account to process ACH Direct Debit payments via Stripe. It also covers the various ways that an ACH DD Mandate can be set up for a Client through the Dashboard, Web Integration and Member App & Glofox Pro.
What is ACH Direct Debit
An ACH payment is a type of electronic bank-to-bank payment in the US. It's made via the ACH network, rather than going through the card networks such as Visa or Mastercard. It allows for a better user experience for your members with the instant verification process.
Configuring Glofox Payments

To enable ACH Direct Debits, you need to set up Glofox Payments. To do this, follow these steps
Navigate to the 'Payments' tab in Settings

Click on the Configure button at the top of the page

Complete the setup form providing Stripe with the information required to enable your account.

You will first be prompted to provide your banking information
You will then be asked to provide information about your business ( this will differ depending on region)

Then you will be asked for details of your business representative

You will then have an option to review & confirm your details
Once confirmed , You'll be returned to the Glofox Dashboard and see confirmation of Onboarding.
Adding ACH DD to a Client from the Dashboard
To set up a Direct Debit mandate for a client via the Dashboard
Navigate to the clients profile and click add Direct Debit

Enter the payers name & email

Read and Agree to terms & conditions

Select Payers bank from list available

Select Account to be linked

Click Done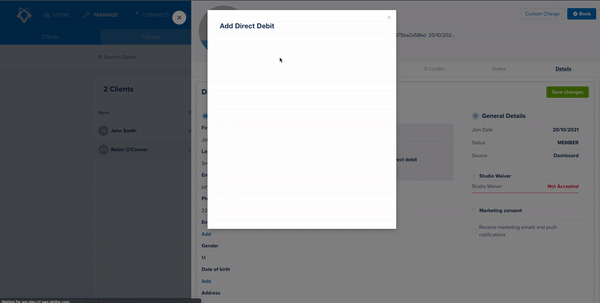 How a client can add ACH Direct Debit on the Web Portal
Clients can add their details from the Web Portal by following these steps:


Navigate to the profile section and select Add Direct Debit.


Enter Name & Email

Read and Agree to Terms & Conditions


Select Bank from list available

Authorise with your bank

Select account to be linked

Click Done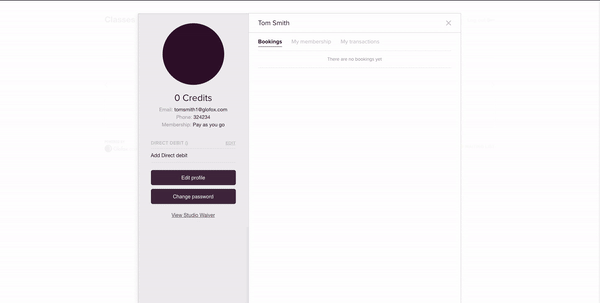 How a Client can add an ACH Direct Debit from the Member App

The steps for adding Direct on the Member App are the same as for the Web Portal.
Navigate to the profile section and select Add Direct Debit.


Enter Name & Email

Read and Agree to Terms & Conditions


Select Bank from list available

Authorise with your bank

Select account to be linked

Click Done
Please Note;
Direct Debit payments can only be made for Recurring Memberships