This article will take you through how to configure your Payment Terminal
Turn the reader on and off
When you first receive the device, install the battery. With the back of the device facing you, lift up from the indentation at the bottom left corner to detach the back cover. Insert the battery by sliding it into the exposed slot with the gold connectors at the top aligned. After the battery is in place, charge the reader by using an outlet or the optional ethernet dock. Connect the reader to power by plugging the provided cable into the port with the lightning bolt symbol.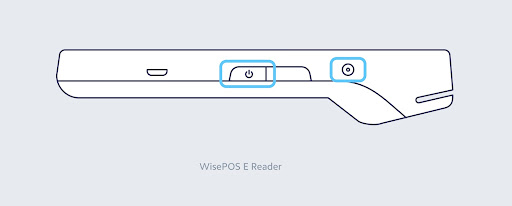 After the reader is fully charged, hold down the power button on the right hand side until the screen turns on. After the device powers on, press the power button to sleep or wake the device. To fully power off the device, hold down the power button until the power off option is shown on the screen, then select it.
In a countertop deployment, leaving the device on for extended periods is expected. With a full charge, you can expect the battery to last about eight hours.
✔ Even when it's not in use, leave the BBPOS WisePOS E plugged in and powered on to receive automatic software updates.
Setting up the device
Once the device is charged and turned on, follow the instructions on-screen to connect to your Wi-Fi network. You may be prompted to Update the device to the latest version once you are connected, and this may take a few minutes to complete.
Once the device is updated, you will be prompted to select the Language of your choice and the country where you're based. The device will then prompt you to register the reader by displaying a code that you must enter within the Glofox Dashboard.
Within the dashboard - navigate to the Payment Settings section - https://app.glofox.com/dashboard/#/settings/payments and press Configure under the Glofox Terminal section.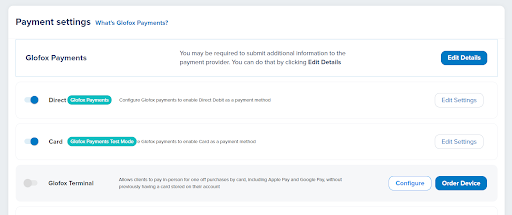 This will open a modal that prompts you to enter the code from the Terminal Screen to connect.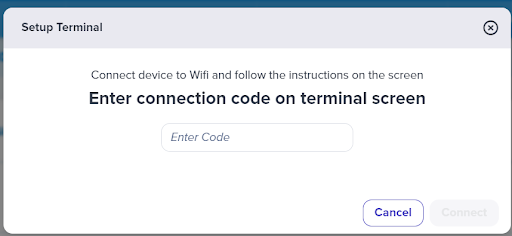 Once completed some final updates may take place and then the device will be ready to be used.

To get in touch and order your POS Terminal device just email paymentsupport@glofox.com today.